Ajam Media Collective is pleased to present a four-part series of recipes to help you celebrate Nowruz on March 20th. Nowruz, which marks the beginning of Spring, is celebrated as the start of the New Year across Iran, Afghanistan, Kurdistan, Central Asia and the Balkans.
These recipes, compiled by Roya Soleymani, focus on Iranian culinary traditions associated with the holiday. We begin with Ash-e Reshteh, a warm and healthy soup filled with fragrant herbs, hearty beans, and delicious noodles. Click here for Roya's recipes for nun nokhodchi and sabzi polo ba mahi. 
Roya grew up an Iranian-American in Seattle and visits family in Iran annually. Some of her best memories in Iran have been cooking with her grandmother, taking notes and keeping the delicious family recipes alive for a cookbook she is currently creating. Follow her on Instagram @rmsoleymani.
***
Ash-e Reshteh
Serves 6
Cook time: 1.5 hours
Iranians commonly serve ash-e reshteh, or "noodle soup,"  on Chahar Shanbeh Suri, a holiday that marks the last Tuesday night of the year. This year, Chaharshanbeh Suri falls on March 14th. Many celebrate by reciting poetry while jumping over bonfires, a symbolic ritual of giving one's poor health to the fire while taking its good health. In Iran and in diaspora, Iranians make ash-e reshteh in large quantities, often making enough to share with relatives, neighbors and even strangers who happen to be passing by. A comforting dish, perfect for staying warm together while celebrating the nightly festivities.
Ingredients:
3 large onions, sliced
2 cloves garlic, minced
1 ½ teaspoon turmeric
1 bunch spinach, finely chopped
1 bunch Italian parsley, finely chopped
1 bunch cilantro, finely chopped
1 bunch garlic chives (can substitute green onions and chives), finely chopped
28 oz beef broth
1 ½ cups lentils
1 ½ cups chickpeas
1 ½ cups red beans
2 teaspoons salt
8 oz reshteh noodles
2 tablespoons dried mint
1 cup kashk (whey)
Vegetable oil
Water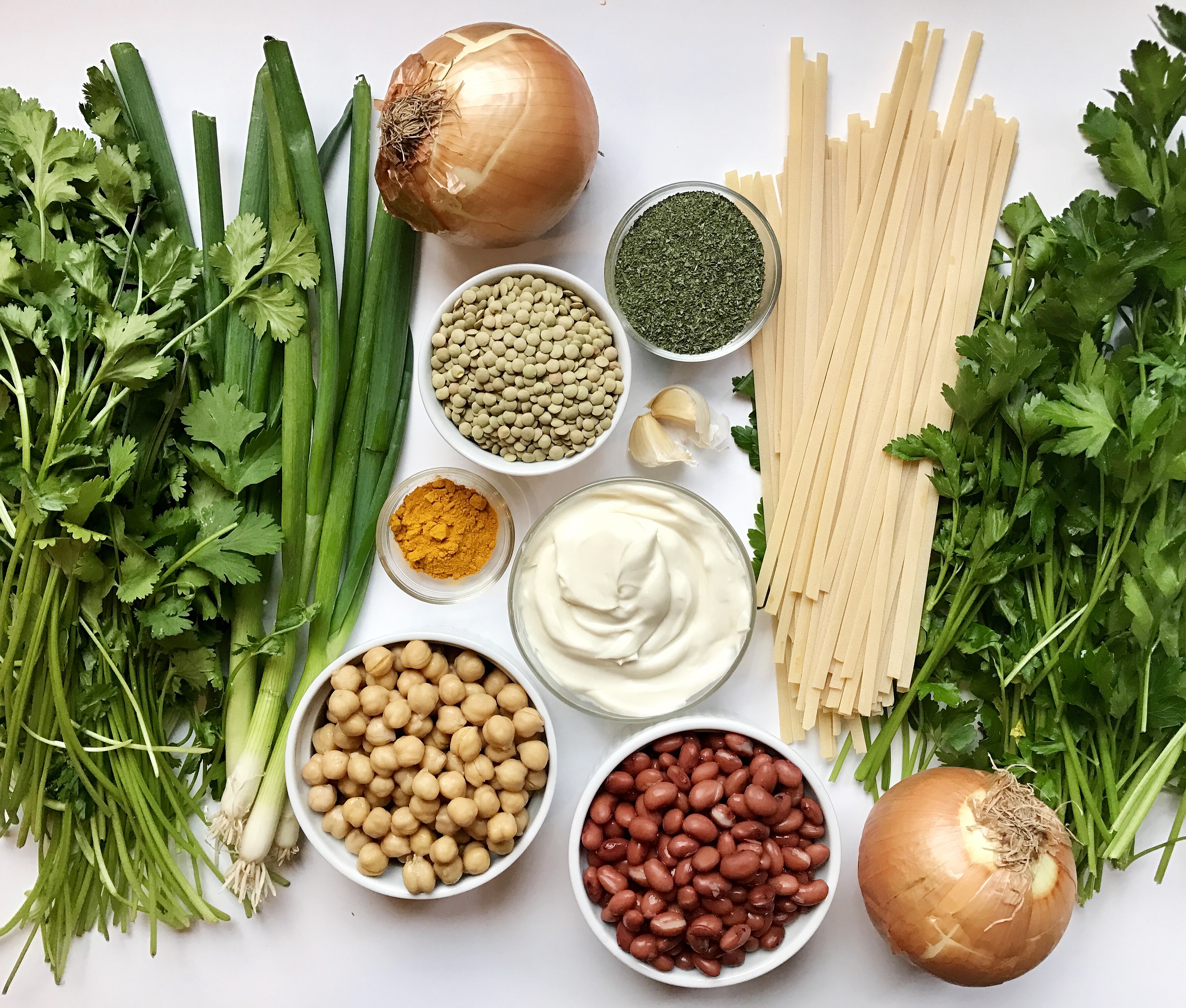 Quick tips before beginning:
Pre-wash, dry and finely chop all the herbs.

Using canned chickpeas and beans speeds up the cooking process. If you don't have canned beans, soak the beans overnight and add them at beginning with the herbs.

Vegetarians: substitute the beef broth with water.

Reshteh noodles can be found at Middle Eastern grocery stores. Linguini can be substituted.

Kashk, or whey, can also be found at Middle Eastern grocery stores.
Recipe:
Heat 2 tbsp of oil in a 5 quart dutch oven.

Add the sliced onions to the oil and fry until golden. Take out 1/3 of the fried onions and set aside to use as garnish later.

Add the minced garlic and turmeric to the onions in the pot and sauté for a couple minutes until the garlic is golden.

Add the finely chopped herbs (spinach, parsley, cilantro, garlic chives) to the pot and lightly fry until coated with oil.

Add beef broth and 14 oz of water. Bring to a boil.

Cover and simmer on low for 30 minutes.

After 30 minutes, add the lentils, chickpeas and red beans. Cover and continue cooking for 30 minutes.

In a small pan heat a couple tablespoons of water with the dried mint on the stovetop.

Add two tbsp mint mixture to the pot of soup, setting aside the remainder to use as garnish later.

Break up the reshteh noodles in thirds and add to the pot with ½ cup of kashk and salt.

Continue cooking uncovered until noodles are done. Add water as needed if the soup starts to get too thick.
Serve the Ash-e Reshteh in bowls and top with extra fried onions, mint and kashk.