Ajam Media Collective is pleased to present a four-part series of recipes to help you celebrate Nowruz on March 20th. Nowruz, which marks the beginning of Spring, is celebrated as the start of the New Year across Iran, Afghanistan, Kurdistan, Central Asia and the Balkans. These recipes, compiled by Roya Soleymani, focus on Iranian culinary traditions associated with the holiday.
Roya grew up an Iranian-American in Seattle and visits family in Iran annually. Some of her best memories in Iran have been cooking with her grandmother, taking notes and keeping the delicious family recipes alive for a cookbook she is in the process of creating. Follow Roya on Instagram @rmsoleymani.
***
Kuku Sabzi
Serves 6
Total Time: 45 minutes
Kuku Sabzi is a delicious frittata filled with fresh herbs, nuts and dried berries. A popular picnic snack in Iran; this frittata is commonly served on Sizdah Bedar. Sizdah Bedar means "getting rid of 13", or bad luck, and is a holiday celebrated on the thirteenth day of the new year. On this day people pack up containers of food, thermoses of tea and blankets to go picnic with family and friends all day. Every patch of green in the cities is filled with families lounging, talking, eating and children running around together. Some families also make a trip out to the countryside for the day.
Over the duration of Nowruz, families grow a dish of wheat grass in their house starting with just the seeds. It is said that over the weeks of Nowruz, the wheat grass collects all the bad spirits and sickness that may be coming in the year ahead. When families go out to picnic, they take the wheat grass from the house and leave it in the countryside to cleanse the house and the year to come. A joyful and happy day together, this holiday officially begins the new year on a positive and festive note.
2 bunches of parsley (4 oz), finely chopped
1 cup packed spinach (2 oz), finely chopped
½ bunch garlic chives (4 oz), finely chopped
¼ cup zereshk (dried barberries, optional)
¼ cup walnuts (optional), crushed
½ teaspoon garlic powder
¼ teaspoon cinnamon
2 teaspoons turmeric
1 teaspoon salt
6 large eggs
2 tablespoons oil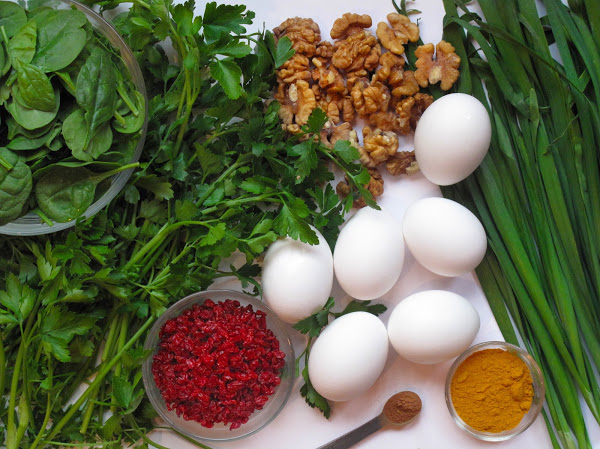 Quick tips before beginning:
Zereshk are dried barberries and can be found at Middle Eastern groceries. Hydrate the zereshk by soaking in a small bowl of warm water for 15 minutes and then draining it.
This is a very versatile recipe; if you don't have the specific herbs try substituting alternative greens such green onions for garlic chives.
Recipe:
Begin by washing, drying and finely chopping all the herbs.
In a large bowl combine the chopped herbs, zereshk, walnuts, garlic powder, cinnamon, turmeric and salt.
Crack the eggs into a separate bowl and beat them lightly with a fork.
Add the beaten eggs to the herb and spice mixture and mix well.
Next, heat the oil in a 10 inch skillet.
Once the oil is hot, pour in the mixture and flatten.
Cover with a lid and cook on low for 15-20 minutes.
When the edges start to brown, cut the frittata into wedges and continuing cooking with lid for 5 more minutes.
Next, flip the wedges over and continuing cooking without the lid for 5 more minutes.
Once it is finished, flip onto a plate with the green side up.
Serve hot or cold with flatbread.