A guest post on contemporary Iranian pop culture from Maryam Momeni.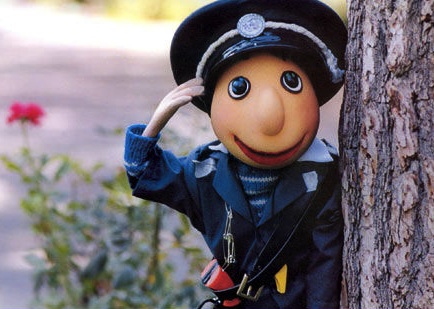 My first memory of children's programming on IRIB (Islamic Republic of Iran Broadcasting) goes back to the early 1980s when I myself was a little girl. During the Iran-Iraq war years that lasted almost a decade we, "the children of wartime" as they would come to call us, were discovering the world around us in a country where serious matters of life and death, revolution and war, and other aspects of socio-political turmoil had surrounded the innocent world of our childhoods.
I used to watch the children's program that was broadcast one hour a day, from 5 to 6 pm. The program was a collage of animation, educational shows, puppet shows, and other types of entertainment arranged for kids in an Islamic country. It included a moderator, a friendly lady who used to announce the order of shows and appear between breaks to chat with us, the little spectators.The last ten minutes of the programing block was dedicated to pencil and crayon drawings submitted by the viewers to the state television.
After the end of the war, the 1990s witnessed a flourishing of all sorts of cultural and economical fields across the country. Eight years of war and destruction were subsequently followed by eight years of rebuilding, restoration, and development. The tense ideological atmosphere present in war-time cinema, television, radio, and publishing industries slowly gave way to various forms of media geared towards fun and entertainment. Children now enjoyed two or three hours of morning and afternoon programming on two state channels. And it was then that "Kolah Ghermezi" (Redhat), the most famous puppet show in Iran, had its television debut and started to attract children of all ages.
The titular character is a little puppet boy around six or seven years old with a red hat, blue striped shirt and a funny face. With open round eyes and slightly high-raised eyebrows, he is always showing interest in the world around him. He has a teenage cousin simply called "Pesarkhaleh" (cousin) who is caring of others and often helps with chores such as buying bread or heating oil. This hearkened back to the 80's, when Iranians needed to stand in long queues outside of bakeries in order to obtain their daily fresh breads; flour was heavily subsidized by the state and only licensed bakeries had the right to buy that in wholesale. There was the periodic delivery of subsidized heating oil and following the announcement of its delivery, people had to wait in long lines to purchase their family's monthly quota.
Standing in lines for buying these items was often the responsibility of teenage boys. "Pesarkhaleh" reminded us of those teenagers of wartime who did what they could to help their family and the people around them without complaint. Despite his slightly harsh manner and stylized gruff outfit reminiscent of the Iranian working class- an aspect that adds to the humor of his character- "Pesarkhaleh" was always very kind, goodhearted, and always volunteered to buy bread or clean up the room without being asked.
For many years these two puppets and "Aghaye Mojri" (Mr. Moderator) were the only characters of the show. The adult figure, "Aghaye Mojri", played by Iraj Tahmasb, serves as a father figure for the kids, teaching them good and appropriate behavior, laughing at their jokes, and constantly mediating between the viewers at home and the puppets in the studio.
Each show usually started with a dialogue between Aghaye Mojri and one of the puppets who has done something funny, shameful, or interesting and is willing to tell his funny story through a dialogue. Kolah Ghermezi, with his childishly incorrect pronunciations of words and phrases and his own nasal way of speaking has an extroverted, happy character who seems to take advantage of life as much as possible. Like most Iranians, he has rural roots and is often visited by his relatives who reside in a village, a reminder of the very recent urbanization of Iranian society.
The Kolah Ghermezi show is now eighteen years old. Its popularity, unlike many other short-lived domestically produced shows, has increased since its early years and continues to do so. It is one of the only children's shows that is popular not only in Iran but also among the diaspora. New characters have been introduced and added to the show, among them are "Famil-e Door" ("the distant relatives"), a porter who loves doors of all kinds and obsessively talks about them, "Baba'i" (the sheep) who loves to speak English and practices it on the show, and "Aghaye Hamsadeh" ("Mr. Neighbor" in Shirazi dialect) who has experienced severe calamities but still maintains a good mood and laughs about his troubles as he narrates them.
The show owes its popularity in part to Iraj Tahmasb and Hamid Jebeli, two successful, experienced artists, who have worked together for many years on children TV and cinema. The secret of the team's success is a good understanding of Iranian culture and social values, developing characters that every kid in Iran from varied social classes could identify with, and above all being creative, playful and funny.
Additionally, from the beginning years of its broadcasting, the show has dealt with the difficulties and challenges that Iranians face in their daily lives, especially those on the minds of the working and middle classes. The show gives to all of Iranian society's many social and economical difficulties a simple, soothing solution: humor and solidarity.