Thanks to our amazing supporters of our recent crowdfund, Ajam will now be producing and releasing regular podcasts. To download the episode, subscribe to us in the iTunes store and Spotify Podcasts.
In this episode, Rustin is joined by Manijeh Nasrabadi, Professor of Women's, Gender and Sexuality Studies at Barnard College. She is the author of the forthcoming book, Neither Washington, Nor Tehran: Iranian Internationalism in the United States (Duke University Press, 2020).
Manijeh speaks about her research on the Iranian Students Association, which was founded in 1952 by the Iranian Embassy and the CIA to support and monitor Iranian students studying at American universities. Over the course of the 1960s, leftist students maneuvered to take control of the leadership positions of the ISA, and gradually transformed the organization into a radical Anti-Shah opposition group.
Within the Cold War context, members of the ISA found themselves entrenched in the anti-war, anti-imperialist, and civil rights movements of the day. Utilizing first-person interviews and archival work, Dr. Nasrabadi not only traces these intersections, but she also highlights how ISA members recall their hopes for the 1979 Iranian Revolution and their disappointments in its aftermath.
Rustin closes out the episode with "Lalai," a political song performed by the Confederation of Iranian Students Choir in Munich in 1969. The featured image was a poster designed by Nicky Nodjoumi.
Guest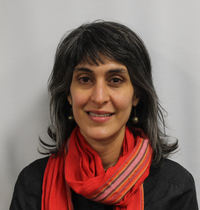 Manijeh Nasrabadi
Dr. Nasrabadi is an Assistant Professor of Women's, Gender and Sexuality Studies at Barnard College. Her research focuses on political cultures of the Iranian diaspora in the U.S., tracing generational shifts in subjectivity, transnational activism, and cultural production across the historical arc of U.S.-Iran relations.
Host
Rustin Zarkar
Editor / Co-founder @ajammc.