Tehran has been under a state of semi-quarantine for 20 days. For weeks, millions have avoided leaving the house for fear of spreading coronavirus. Schools, universities, theaters, and gyms have been closed. Streets usually busy with shoppers ahead of Nowruz, the Persian New Year celebrated on the first day of Spring, have been left nearly empty.
Across Iran, a growing silence has fallen on public spaces. Fear is worsened by US sanctions on Iran, which have led to shortages of basic medicines and sanitary supplies needed to combat the virus' spread.
Under quarantine, Iranians cook, they share recipes, they experiment with new and old spices and ideas, they find joy in flavors and mixing and discovering. The lights and sounds from kitchens break through the silence and darkness outside, reverberating through the shared gardens of apartment buildings, now more than ever before.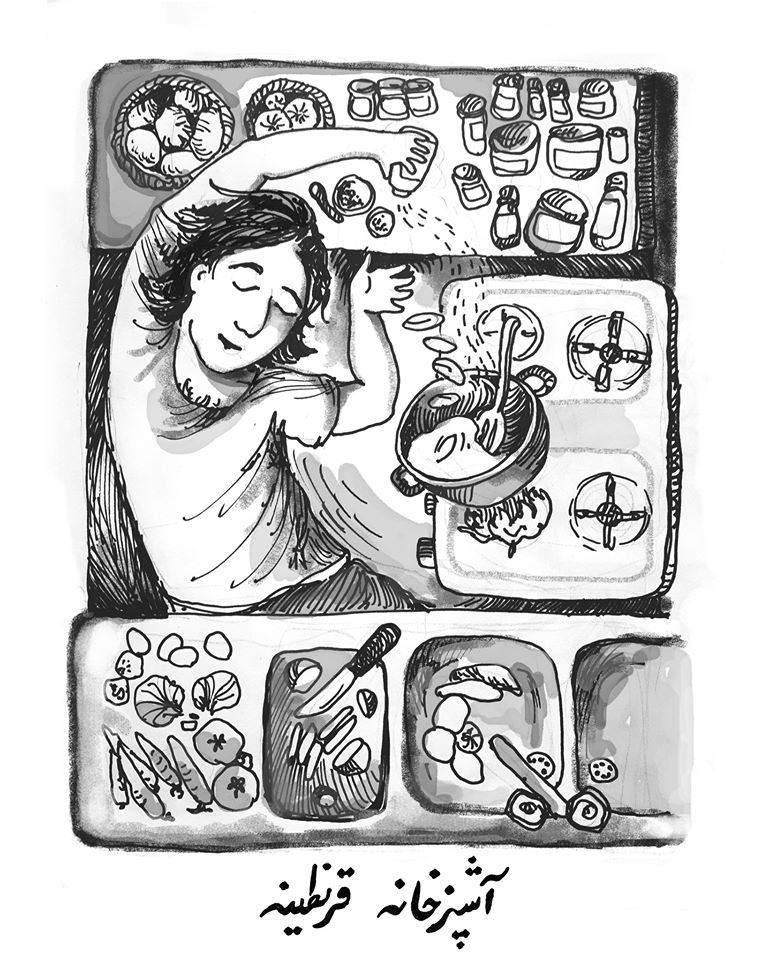 These stories have become the inspiration for Golrokh Nafisi, a Tehran-based artist whose latest series is called "Quarantine Kitchen." Nafisi drew portraits of her friends preparing new recipes, based on the stories they told her of their experiments under quarantine. She is developing the series and has asked that anyone with a similar story please contact her and share their story, so she can draw them as well. 
"Quarantine Kitchen is where we live these days. Thousands of recipes circulate between Iranians to encourage them to stay home and cook. The kitchen, heart of our homes, is the heart of the quarantine these days," she writes.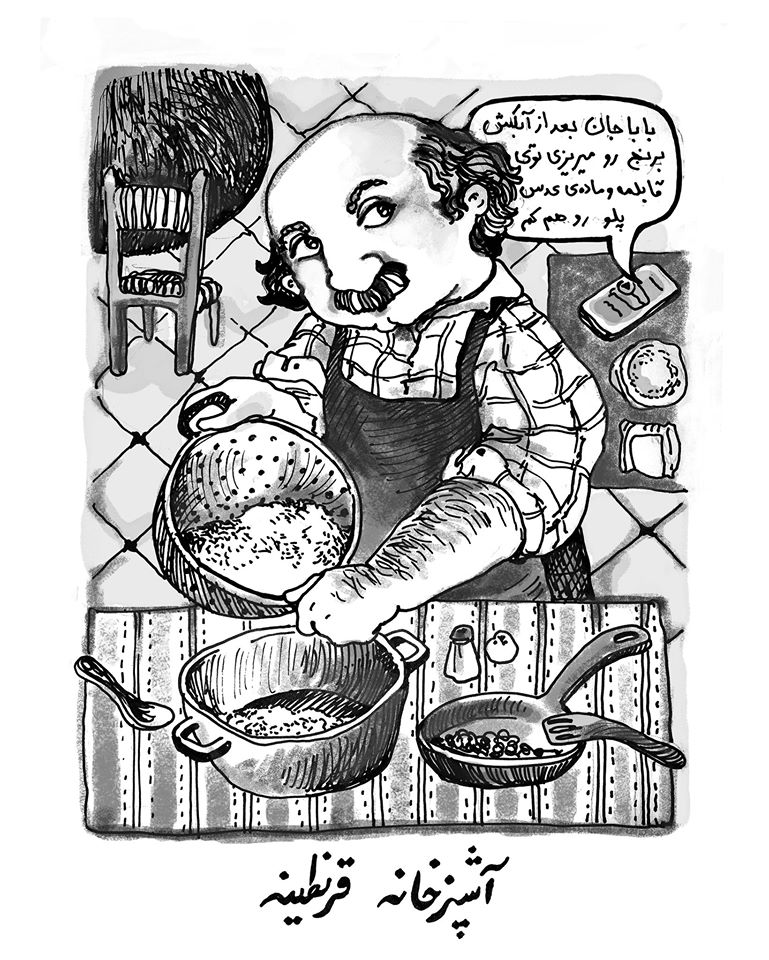 "Mothers are used to spending hours in the kitchen, never turning the lights off. But for young people who have gotten used to ordering dinner from apps, for those who live alone, for those who have forgotten how to cook, the experience of spending long hours in the kitchen is a fresh one, like an old friend that has come back to visit. The kitchen has again become the heart of the home again."
Under quarantine, Iranians spend hours calling and texting each other, sharing tips on how to wash hands, which herbs and essential oils are useful for protecting the immune systems, and the latest rumors about quarantine steps yet to come.
"Among the messages that bounce from one phone to another every day, there's always one or two that comes with instructions for new recipes," Golrokh explains. "Cookbooks that have been collecting dust on shelves for years have been taken out, and page by page we are reading them again."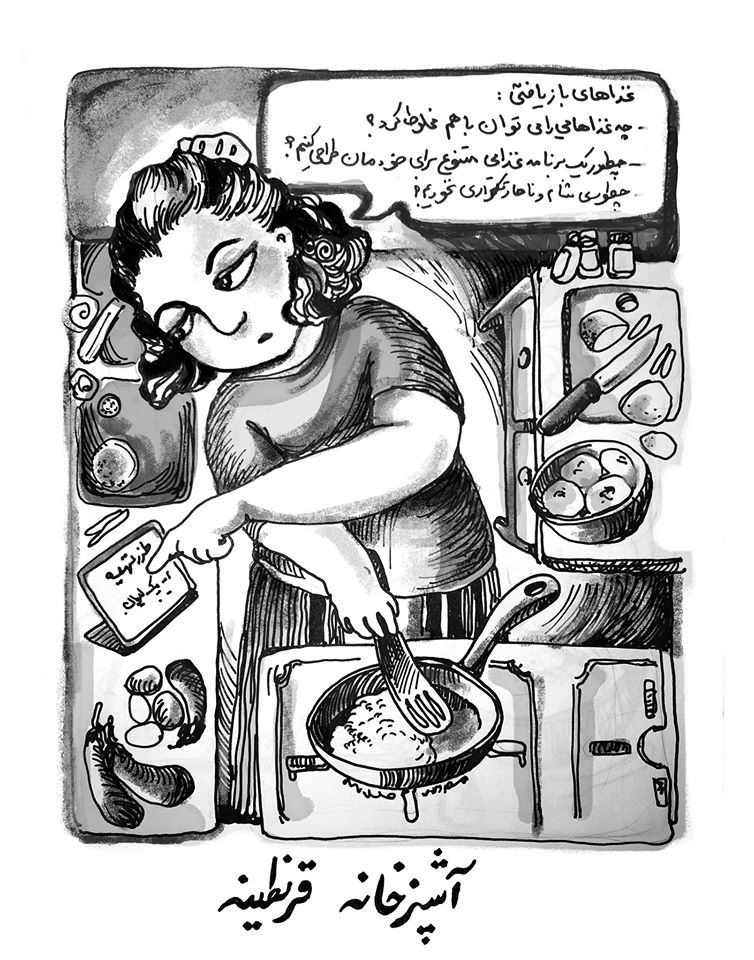 Among those is "From Garlic to Onion," a tome of Iranian recipes written by Najaf Daryabandari. A famous writer and translator, Daryabandari was imprisoned under the Shah for his literary works. During his time in prison, he became fascinated by cooking, and upon his release dedicated himself to collecting recipes from across Iran and trying out new ones.
"A few nights ago, my friend showed me a chapter from the book entitled "recycled foods" (ghazahaye bazyafti) with suggestions for what to do with leftovers. As we flipped through the pages, we arrived at "forgotten kuku." Kuku is a vegetarian frittata made with whipped eggs, an extremely popular dish in Iran that can be made with a wide variety of flavors, like herbs, potatoes, eggplants, or caviar, often sweetened with bits of fruit and walnut.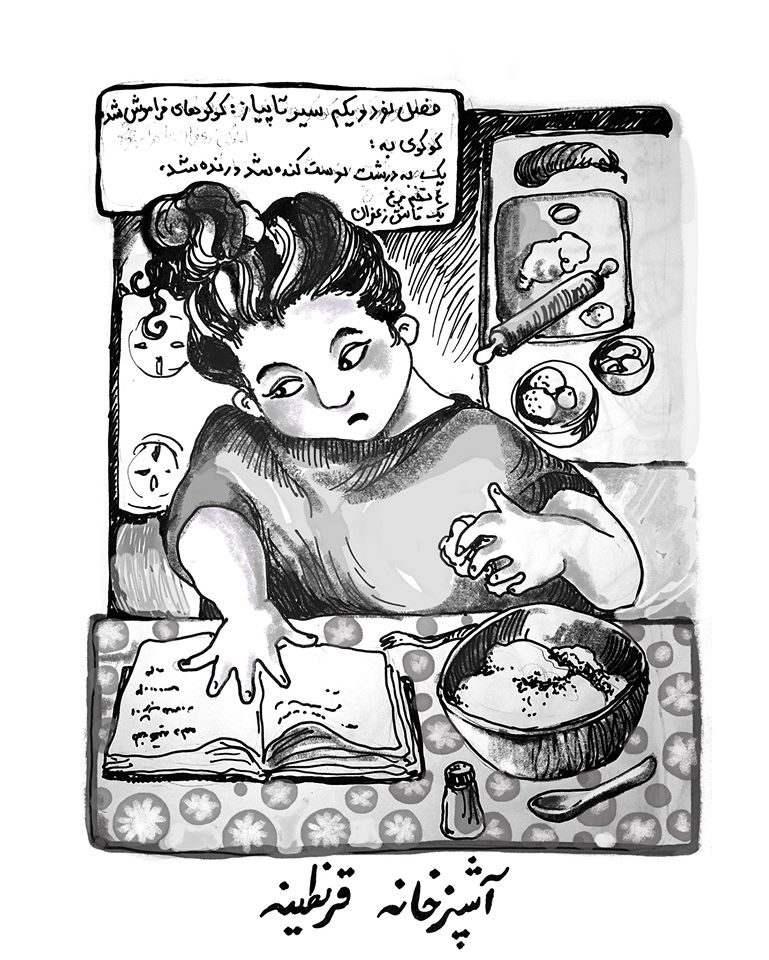 "The next night, we prepared our first forgotten kuku. Using bread that another friend cooked and sent us from their homes, we cooked Kuku-ye Beh, Quince Kuku, made with the sweet quince fruit that is in season in Iran right now." 
"Forgotten kitchens have become the safest and warmest places in our homes under quarantine."
Her most recent work extends the joy from the kitchen into the streets, encouraging Iranians to open their windows and put up banners wishing each other a Happy Nowruz! The banner she has flown from her building has a line from the Ghazals of Hafez:
ز کوی یار می‌آید نسیم باد نوروزی
The breeze of a new day and new beginnings blows from the abode of a dear friend.