To download the episode, subscribe to us in the iTunes store,  Spotify Podcasts, and Google Play.
The Indian Ocean series explores topics related to the Islamo-Arabic and Persianate world from the perspective of the Indian Ocean littoral and the people who traversed its waters. These conversations aim to rethink narratives of history and culture, which have been traditionally boxed in by land-based territorial demarcations and regional studies frameworks. This series invites listeners to imagine the complex interconnectedness of life from East Africa to Southeast Asia and beyond.
In this episode Lindsey interviews Ameem Lutfi, Postdoctoral Research Fellow at the Middle East Institute at the National University of Singapore.
The legacy of the Baloch in Indian Ocean historiography has been confined to their role as soldiers or "mercenaries" of various rulers. Dr. Lutfi's work is interested in interrogating what it meant for the Baloch to conquer on behalf of rulers without ever ruling those territories themselves. He grapples with the tension between the power that they have as conquerors – precluding them from being categorized as subaltern – and the fact that their history has been primarily passed down through folklore rather than texts. Dr. Lutfi reminds us that in the past, states frequently relied on "mercenary" outsiders to staff their armies, and professional citizen soldiers only became the norm in the last century. He explains that although the Baloch have been perceived by many as a diaspora group, they see themselves as critical parts in the formation of the nation itself. In this vein, their work as soldiers and more recently policemen, has created deep, highly mobile Baloch networks between the shores for centuries.
Guest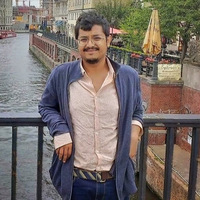 Ameem Lutfi
Ameem Lutfi (PhD, Cultural Anthropology, Duke University) is a historical anthropologist specializing in transnational mobility and military-labor markets. His current book project titled 'Conquest Without Rule: Baloch Portfolio-Mercenaries in the Indian Ocean' looks at state-building in the region from the perspective of a diasporic group which has maintained a strong presence in the military infrastructure of various states in the region since at least the 16th century despite not having a state of their own.
Host
Lindsey Stephenson
Lindsey Stephenson (PhD, Near Eastern Studies, Princeton University) is the creator and host of Ajam's Indian Ocean Series. She is a social and legal historian of the Middle East and Indian Ocean. Her work focuses on sovereignty, mobility, and identity in the Persian Gulf.
Credits
Episode No. 21
Release Date: 17 August 2020
Recording Location: New Orleans, LA
Produced by Lindsey Stephenson, Ali Karjoo-Ravary, Rustin Zarkar
Audio editing: Lindsey Stephenson
Music: Mohammad Faiz Baluch (Intro and Outro: Muscat e Mehrok)
Cover Image: The Miriam and Ira D. Wallach Division of Art, Prints and Photographs: Art & Architecture Collection, The New York Public Library. "Dadur : Hajee Ebrahim, commandant of the Bolan rangers, and men of the Brahoee tribe" New York Public Library Digital Collections.