The following article is written by George Murer, an ethnomusicologist and filmmaker with interests in Iran, Kurdistan, Central Asia, and the Indian Ocean Region. He is currently completing a feature length documentary on the Kurdish Granî genre called Her Bijî Granî. All photos by author.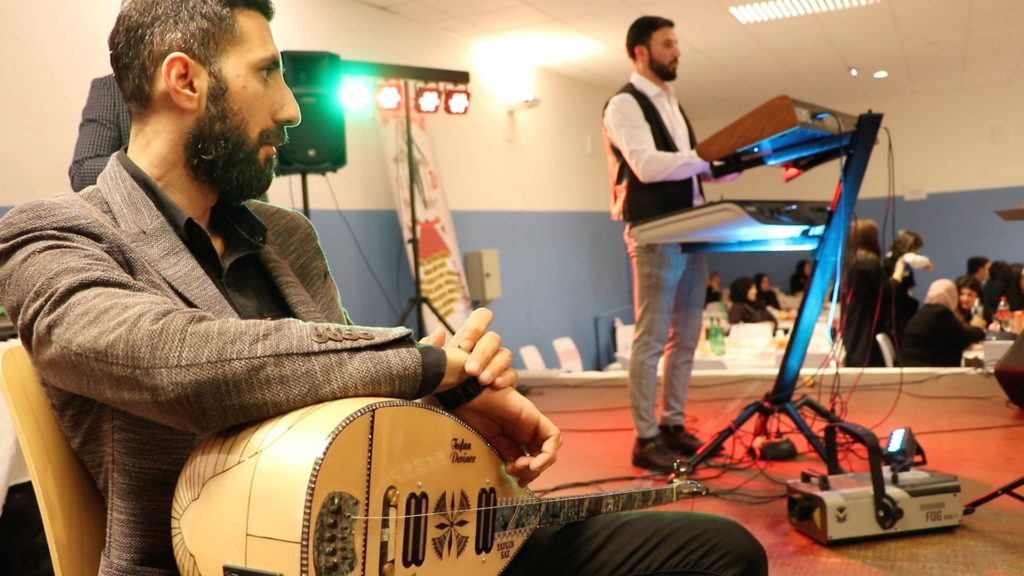 The first time I heard the sound, it was bouncing off the concrete sides of high rise apartment buildings in the middle of Diyarbakir, a predominantly Kurdish city in eastern Turkey. It was 2002, and I was learning bağlama (long-necked lute with tied-on frets) from a teacher at a sawdust-coated workshop in Cezaevi, a residential neighborhood famous for the presence of a notorious prison. At lunchtime, my teacher would cook fish from the Tigris with peppers and onions on a little propane stove and we would chit chat as a feral white kitten tried to drink the pattern on his sweater.
One day, suddenly, I heard the soaring sound of an overdriven elektrobağlama, a marriage of the fiery, extemporaneous quality common across so much Kurdish music with the raw contours of loudly amplified soundwaves. Sustained pitches born of crackling, overloaded signals, screeching feedback, thick distorted lows, and palpable voltage pulsations all pushed a medley of familiar Kurdish songs into the realm of a high volume rock experience. Suddenly restless, and realizing that it was a wedding just on the other side of a large open lot, I wandered over to record:
Over the next fifteen years, I returned again and again to follow the sounds of granî —or ağır delilo in a Turkish-Kurdish hybrid expression—from wedding to wedding across eastern and southern Turkey. I travelled with young musicians as they bounced between engagements from Diyarbakir to Kiziltepe to Midyat in one stretch, and from Mersin to Bismil to Diyarbakir in another, and over to Antalya in yet another. It was thrilling to watch this genre of music, initially seeded in Diyarbakir province and steeped in layers of ongoing innovation, unfold in real time.
In the early part of the twenty-first century, granî has emerged as a key yet unacknowledged expression—even crystallization—of Kurdish identity, one that engages whole communities and resonates deeply with teenagers, bringing them out to weddings in droves decked out in the latest styles, and keeping them glued to their social media, consuming the latest documentations of their favorite artists in the tens to hundreds of thousands. From its initial base in Diyarbakir province and Anatolian centers of migration from the Southeast to more distant nodes of Kurdish diasporic settlement, above all in Europe, granî delineates and energizes spaces for Kurdish cultural performance and group solidarity, giving breathing room to the suppressed energies and creative agency of young Kurds. In its palpable emotional release, it has become a conduit for the same intensity of Kurdish suffering that underlies the commitment to Kurdish struggle.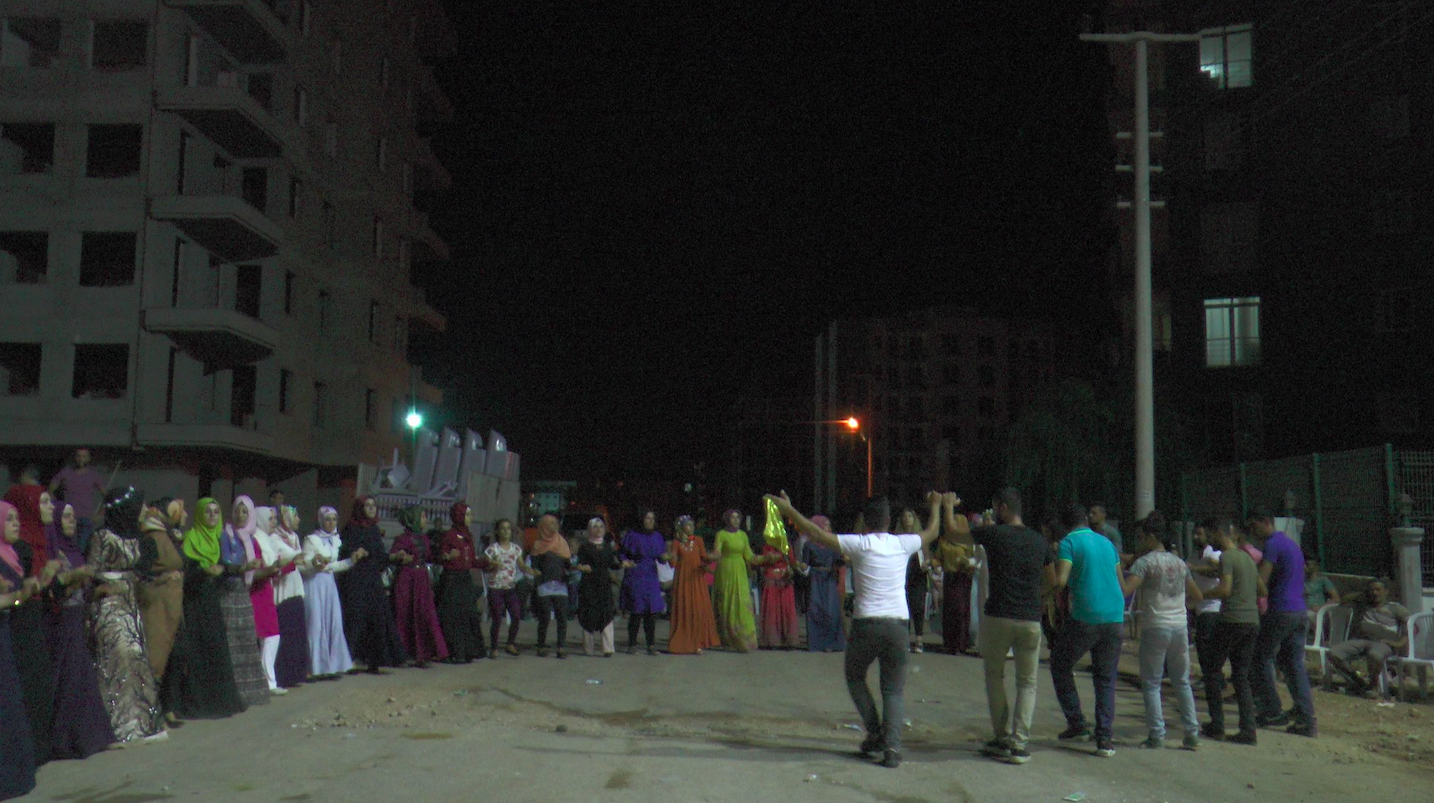 Granî is bound to weddings, a vital focal point for Kurdish cultural expression in Turkey. Some weddings are held in halls resembling gymnasiums or country clubs, while others are held in the open air—on back streets, nestled between apartment blocks, in village squares, or in dusty clearings. Some are rendered spectacular with billowing vermilion flares, fog machines, multicolored overhead pyrotechnics, and wispy artificial snow suds, while others are enlivened by sporadic eruptions of high-caliber celebratory gunfire and kids running around tossing firecrackers.
Some bristle with defiant Kurdish nationalism—green, yellow, and red cemedanîs (kufiyas) and victory signs held aloft, others are prefaced by a quiet plea to the hired musicians not to play anything that could be construed as political. A conspicuous constant is the relentless dance music and dancing, propelled by a thudding beat and the piercing elektrobağlama. It has taken over the historical role of acoustic instruments—fluttering, slashing, and droning in the place of the shrill, squawking zirne (double reed conical shawm) and the raspy, rhythmically bowed kemaçe (spike fiddle).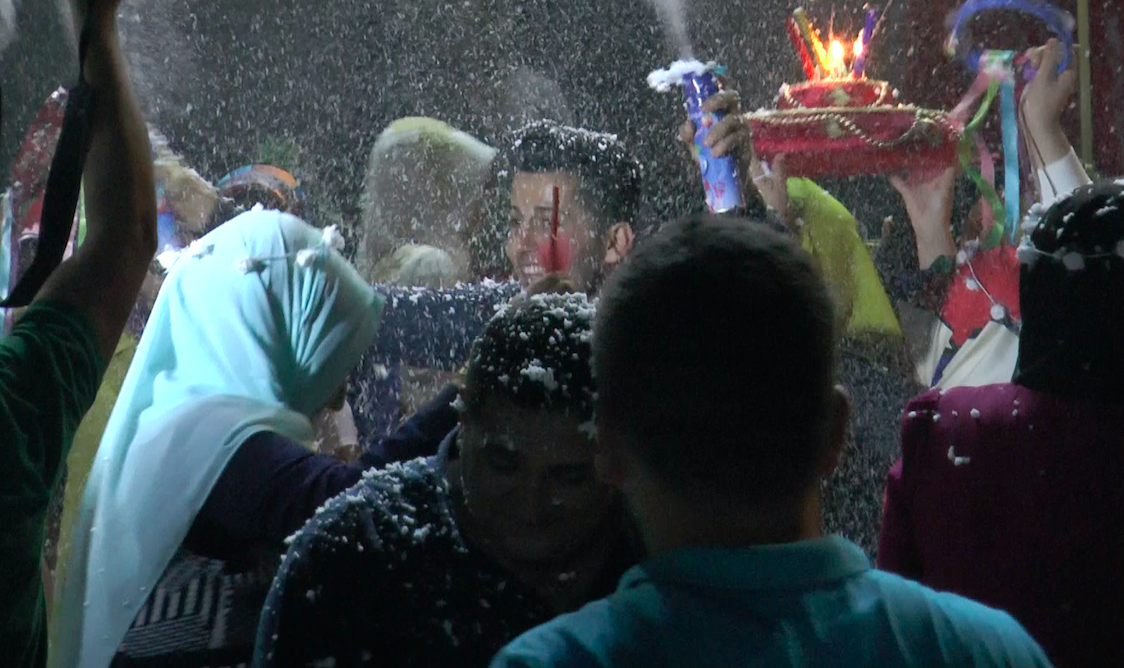 Kurdish and Anatolian Turkish music are entangled along with neighboring Persian, Greek, Arab, Armenian, and Assyrian musics. Autonomous urban cultures, networks of Romani, Dom, and Abdal professional musicians, and the prevalence of maqam-based art repertoires overarch political and ethnolinguistic boundaries. Official narratives in Turkey portray "Turkish" music as varying across the expanse of Anatolia with its mountains, plains, highland pastures, and coasts, with the music of the Southeast as just one piece of the puzzle. But Kurdish folk songs and dances have specific rhythms, timbral aesthetics, and melodies, besides being sung in Kurdish.
Distinguishing features of Kurdish music include a tendency towards long strings of rapidly enunciated verbal utterances on a sustained pitch leading into an emotive, descending melodic passage and the adherence, over the course of a song, to a consistent set of notes. In contrast, Turkish folk music tends towards a great deal of shifting between different sets of notes within a single melody. With respect to rhythm, 2/4 dance rhythms are prominent in Kurdish music while much non-Kurdish regional music across Turkey employs uneven beat patterns that lend a distinctive lurch to its sense of movement. Non-Kurds sometimes paint Kurdish music as passionate and simplistic in comparison with "Turkish" music.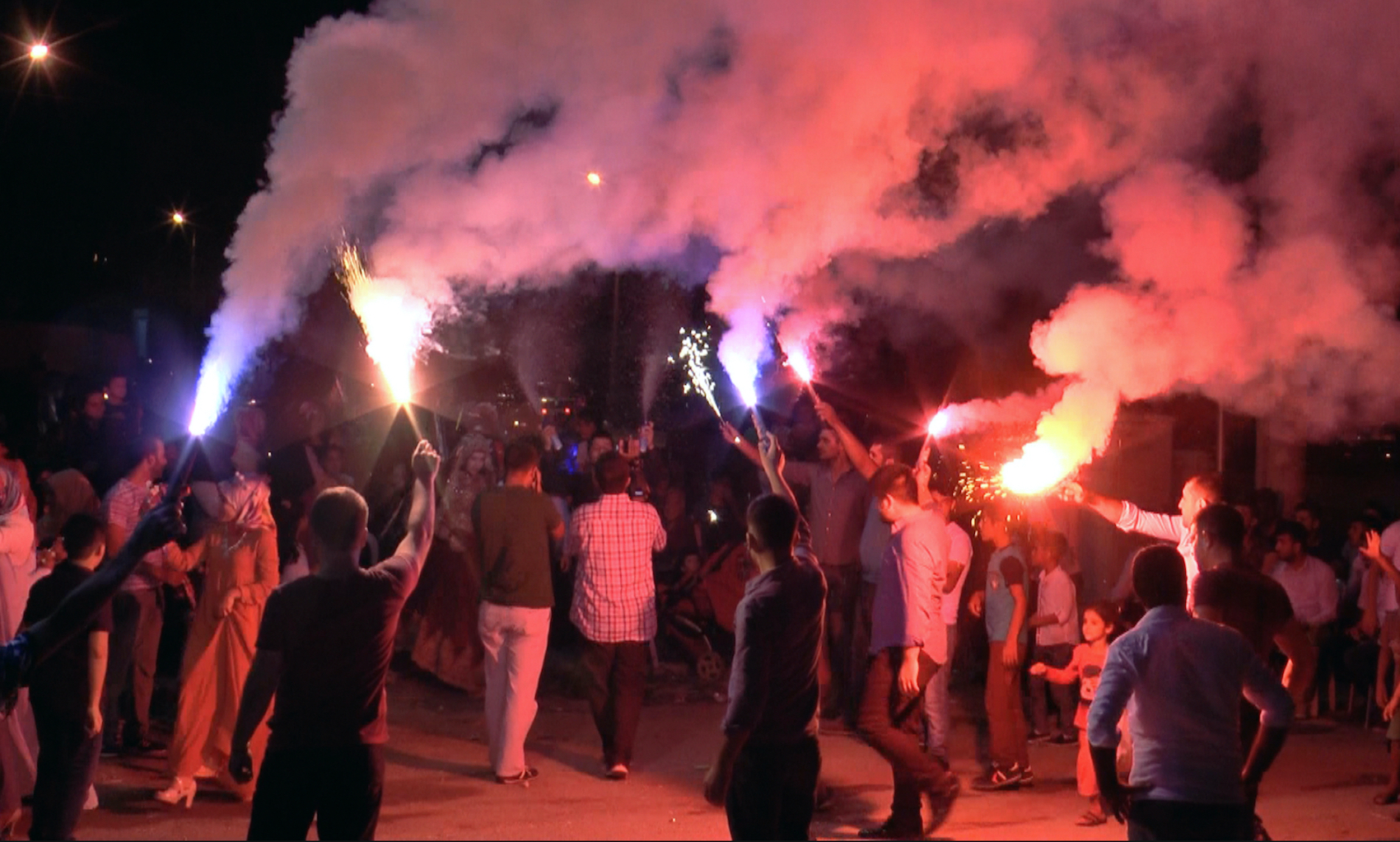 Among Kurds in Turkey, the rise to prominence of the elektrobağlama has become intertwined with a succession of fraught phases of political history. This, in a nutshell, is granî—a reconstitution of regional Kurdish dance music through intimate explorations of its sonic contours and local inflections. Elektrobağlama players have made a science of attending to the fine texturing of the squawks, flutters, trills, wavering tones, and bursts that fashion pure sound energy into animating dance melodies and re-rendering these through the processed signals and controlled voltage of their own instruments as a high octane outlet for pent-up energies against a backdrop of persistent crises.
Throughout Turkey's modern history, Kurds have demanded greater political autonomy and cultural rights. At times this has been expressed through armed insurgency, which has met with an overpowering military and legal response from the Turkish state. This response includes destruction of villages and sections of towns and cities, the imprisonment and torture of suspected separatists, martial law, and interference in local governance and education, including significant periods in which Kurdish language and expressions of Kurdish culture or identity were criminalized.
The elektrobağlama was developed in the 1960s as musicians like Orhan Gencebay wrestled with the practicalities of amplification. It was mainly a matter of adding magnetic pick-ups to the bağlama. The resulting electric sound was integrated into a polished, eclectic style of music popularly dubbed "arabesk," which became wildly resonant among young, working class Turks (and Kurds) while alienating more bourgeois milieus. Arabesk's melodramatic flourishes were perceived as being imported from Arab popular music while it projected an aura of the lower classes, socially unstable, even chaotic. Apart from this initial association with arabesk, the elektrobağlama became incorporated into various genres in the 1970s and 80s, some hip and urbane, others low-brow and provincial. The instrument was foregrounded in groovy "Anatolian rock" and Germany-based Derdiyoklar's punchy, wah wah-laden "disco folk" sound.
Considered kitschy and inauthentic by many middle class Turks, the elektrobağlama became a familiar presence on commercial recordings and at less-than-reputable nightlife milieus. The elektrobağlama is an indispensable fixture of the pavyon—a neon-lit institution for which Ankara is famous. Here working class men, often migrant laborers, blow their paychecks on liquor and the company of hostesses while onstage music and dancing fuel an atmosphere of entwined homesickness and bacchanalia.
Despite the seedy ambience, there is a rural central Anatolian backbone to the music—impassioned bozlaks and infectious central Anatolian folk dance tunes are reimagined in stripped down versions, sparsely punctuated by a phase-shifted elektrobağlama, combining a lonesome provincial sentimentality with a big city glitz.
The Turkish elektrobağlama was paralleled in Syria and Lebanon by the electric buzuq, which has its own distinctively mashreqi Arab maqam-based repertoire and is often showcased at weddings. Among Kurds, guitar-style magnetic pick-ups were added to the tenbûr, a long-necked lute similar but not identical to the bağlama and buzuq.
Kurdish music varies from region to region, sometimes from village to village or mountainside to mountainside. Three of the so-called "four parts of Kurdistan" (Turkey, Syria, and Iraq) are delineated by post-Ottoman colonialist interventions. Although contemporary boundaries do not align with cultural or linguistic enclosures, they do inform the collective experiences of Kurds, especially in terms of how and when they encounter political and cultural repression. Kurdish music history has been periodized by the outlawing and stigmatization of manifestations of Kurdish culture and identity. Beyond overt political statements delivered by Kurdish activist singers, unambiguously Kurdish music has taken on a defiant character that permeates its sound, timbre, melodies, imagery, and dance formations. Tunes and dances marked as local to a given mountainous or plains section of Kurdistan serve as vivid sonic imagings of a real—rather than ideated—topography.
Throughout the 1980s until 1991, law 2932 prohibited Kurdish language and music or any explicit manifestation of Kurdish culture in Turkey. With the relaxing of the law, a new space for commercial music opened up. Labels such as Aşanlar established a dual presence in Diyarbakir and Unkapana—Istanbul's vast complex of recording facilities and record label headquarters. Kurdish music now emanated from markets, buses, and truck stops. Professional Kurdish musicians supported themselves though commercial recordings and, most importantly, wedding engagements. Singers such as Seid Gebari, Seid Yusiv, and Emin Arbani became household names. Seid Gebari, from Zakho in Iraqi Kurdistan, probably did the most to popularize the electrified lute as an integral component to Kurdish folk music.
Despite the popularity and cassette sales of these singers, the towering figures in Kurdish music remained celebrated bards of earlier periods and older generations like Mihemed Arif Cizrawi, Mihemed Şexo, Kawîs Axa, and Ayşe Şan, and more contemporary, overtly political, singer-songwriters living in exile— especially Şiwan Perver, Ciwan Haco, and Nizamettin Ariç. Prolific Kurdish writers and recording artists were driven into political exile, and based themselves in Berlin, Stockholm, or Paris. Prohibited books and recordings produced in Europe circulated among Kurds in Turkey. Throughout the 1990s, conditions for the production of Kurdish cultural materials in Turkey improved.
Then, circa 2000 in the town of Bismil, about an hour east of Diyarbakir along the Tigris, a shift occurred. Playing around with established song tempos, sounds, and phrasing styles, singer Bismilli Zeko and elektrobağlama player Bismilli Sedat captured the imaginations of young working class Kurds in Bismil's grim, repressive, post-conflict atmosphere. Bismil, named by Mustapha Kemal Atatürk for Indian anti-imperialist freedom fighter Ram Prasad Bismil (d. 1927), was founded to accommodate laborers settling in the plains amid agricultural and industrial development. Like Diyarbakir, Bismil swelled dramatically during the 1980s and 1990s with the destruction of thousands of villages as the Turkish military sought to eradicate all resistance to Turkish rule among Kurds in Southeast Turkey/North Kurdistan.
Zeko and Sedat's crucial intervention was to slow the tempo of the wedding dances way down, increasing the range of tempos but also creating a different space for melodic interpretation within the dance music. This new style became interchangeably known as ağır delilo and granî (more properly giranî—"slow, heavy" in Kurmanji). Both terms emphasize the slow, heavy quality of the sound—ağır means "slow, heavy" in Turkish, while delilo is a Kurdish line dance with an array of local varieties.
Bismilli Sedat gives two reasons for gravitating towards a slower tempo. The first was the need to keep everyone at the weddings engaged. At this moment, in step with Kurdish sentiment, the dancing had been growing more vigorous and competitive, more virile, and the elders, unable to keep up, were increasingly left out. The logical solution was to introduce something slower in tempo. Then, Sedat wanted to try to incorporate the feel of the smooth, polished elektrobağlama found on İbrahim Tatlıses recordings into this Kurdish folk dance niche. Upending the status quo of Kurdish wedding convention felt a bit risky but, Sedat says, "when it caught on, it caught on hard."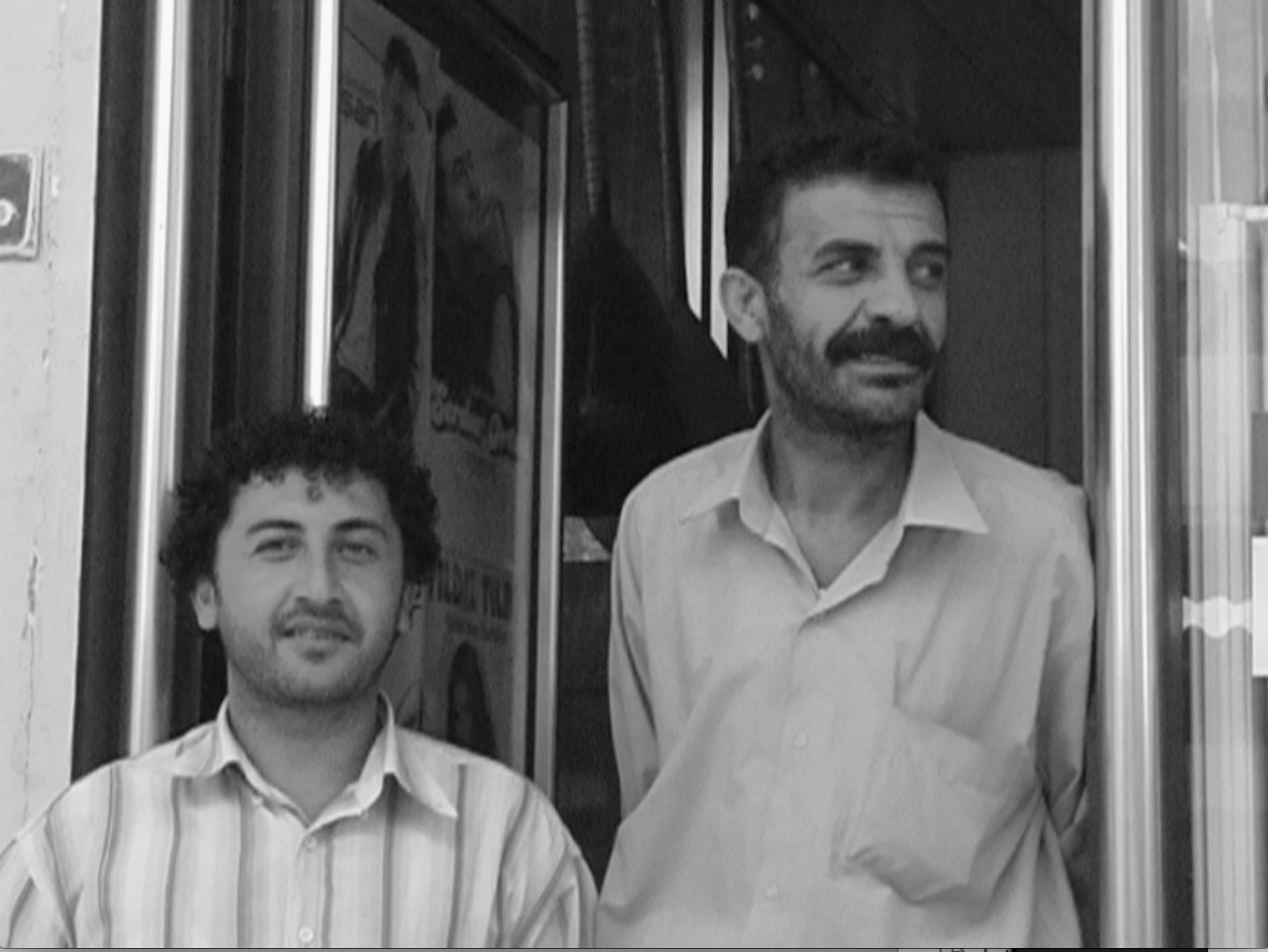 Bismilli Zeko's second album is regarded as the masterpiece of this early granî style. Introduced by a zirne (shrill double-reed shawm) played by local Dom musician Muzaffer, the first side begins with a naked, piercing tremulous tone, until a plodding, bass-heavy 2/4 drum machine pattern kicks in with an acoustic bağlama chug filling out the groove.
About two minutes in, Bismilli Sedat takes over with a lush, clean-toned stream of elektrobağlama, dominated by triplets. The track is nominally a cover of "Te ez kalkirim li ciwanî," a song originally popularized by the beloved Aram Tigran. Tigran was an Armenian musician whose family had been displaced from Diyarbakir to Qamishlo and who sang many of his songs in Kurmanji Kurdish.
By 2009, a number of younger Kurdish elektrobağlama players (Bismilli Çeto, Tufan Derince, Derikli Welat, Feysele Deriki) had sculpted a refined, harmonically rich, overdriven elektrobağlama sound and built on Bismilli Sedat's innovations, evolving a new phraseology enabled by the slower granî tempo. Granî came to refer to the overall style of music. Not just the slow tempo dance, but the general overdriven sound even when applied to faster dances like delilo, şexanî, and şemame and extremely fast-paced cî de and halay numbers.
There is a certain prestige in being associated with the genre of granî and/or the town of Bismil, leading to performers' aliases such as Bismilli Zeko, Bismilli Sedat, Bismilli Firat, Bismilli Çeto, Granî Hikmet, Granî Furkan, Bismilli Granî Mahso, and Bismilli Granî Memocan. Bismilli Zeko maintains that it's not uncommon for musicians from elsewhere to adopt Bismilli as a title. Once established, some musicians prefer to be represented as first name last name instead of these gunslinger-style noms de guerre.
In contrast with wedding performances, studio recordings circulated by musicians based inside Turkey who depend on visibility to attract gigs are generally devoid of political content. Nonetheless, the aesthetic comes across as fierce and unmistakably Kurdish. Non-Kurdish Turkish friends often react with discomfort when I play them this style of music. To them the vibe is militancy, violence, and tension, where for Kurds its tone is both poignant and exuberant. Tufan Derince has described for me his feelings of awe when, at weddings, he sees dancers break free of the line and dance expressively in the throes of ecstasy with tears streaming down their cheeks.
The elektrobağlama serves to forge a bridge between the Kurdish tenbûr and the Turkish bağlama and—most strikingly—between hard rock aesthetics and the shrill, squawky, sustained tones of the zirne as raucous outdoor dance accompaniment par excellence. Power chords, Deep Purple quotations, blues-based rock boogie chugs, and metal-style shredding are woven in in climactic moments without abandoning the repetitive Kurdish dance motifs.
Keyboards either provide a rhythm section or fulfill the same soloing function as the elektrobağlama, drawing extensively on the melodies played on instruments such as zirne, dozale, and kemaçe (double and single reed wind instruments and a spike fiddle, respectively).
Over time, keyboards have come to accommodate futuristic, envelope-y sounds, often appropriated from neighboring Arab debke-oriented milieus alongside convincing reproductions of regional wind instruments. From Syria and Lebanon to Egypt and Tunisia, this is a broad regional trend, the parallel emphasis on ever more synthetic textures and on supplanting acoustic instruments like the mijwiz, mizwid, mizmār, rebaba, kawala, etc. with naturalistic, often sample-based keyboard approximations. Among Kurds in Turkey the zirne, elektrobağlama, tulum (bagpipe), and bilûr (breathy end blown flute) are especially well-represented in DIY or factory preset sound banks.
Although keyboards have replaced drum machines as the rhythms section in groups in which the elektrobağlama was featured, actual drummers are not uncommon, playing rock drum kits—sometimes two or three complete sets—or the large double-headed davul.
The sound of an overdriven elektrobağlama has been appropriated by keyboard players, especially Furkan Burak Aran, who mixes in rock guitar sounds as well.
Commercial recordings revolve around long, slickly produced tracks that elide different genres and palates.
Playing with combinations of sonorities has become central to granî recordings.
A sonic vocabulary borrowed from EDM is increasingly apparent.
The explosion of granî is part of a recentering of Diyarbakir and its environs in the geography of Kurdish culture production. Kurdish communities in Istanbul and Europe are increasingly absorbing new ideas and styles honed in Diyarbakir, Rojava, and newly emerged centers for Kurdish culture. Granî initially spread from Diyarbakir and Mardin provinces to Mediterranean south Turkey where it caught on in migrant Kurdish communities, with Mersin second only in granî credentials to the Diyarbakir-Bismil nexus. Diyarbakir-born, Mersin-based musicians such as Tufan Derince and Burhan Toprak helped to establish the city's reputation.
Invitations to perform at weddings in Europe are further extending the reach of granî and leading to new encounters and new sounds. Recent waves of Kurds displaced by the war in Syria have come to share a European space with Kurds arriving from Turkey against a backdrop of decades of prior immigration from various parts of Kurdistan. With Berlin, Köln, and Paris serving as epicenters for global electronic dance music scenes, local Kurdish music producers find a lot of technical support and ambient inspiration as they resituate Kurdish music in cosmopolitan diasporic milieus.
During the Covid crisis, the livelihoods of wedding musicians and other professional musicians have been severely affected. But it is a moment where musicians are busy producing work that amplifies the leadership roles they have assumed as focal points of communal festivities. Musicians broadcast mediated messages of "stay at home" through vignettes of wholesome, caring, intimate family life, promoting the idea that social distancing as a civic responsibility and personal safety measure can still be understood as togetherness through an emphasis on household intimacy.
Fueled by a charged, polished granî soundtrack, the informal, stylishly choreographed Kurdish dancing that is characteristically depicted in settings like the ramparts of Diyarbakir's old city, the plains along the Tigris, or the streets of Kurdish towns is now shown taking place in the backyards and apartments of European cities.
While fashioned in response to a particular set of circumstances, these tableaus offer a condensation of the history of granî as a genre—the origins of the sound/style/scene in the peripheral spaces of besieged communities in Southeast Turkey and its gradual expansion to distant, more cosmopolitan settings. Through granî, the participation and creative agency of young, geographically diffuse, working class Kurds is centered in circuits of interregional and transnational connectivity.
Looking to a future of tremendous uncertainty, Kurds have equipped themselves with a brand new musical language to help process global currents of popular culture, technological overloads, crosscultural entanglements, drastic swings in the pendulum of regional politics and their economic fallout, and relentless social pressures. And yet granî remains a cohesive force, a simple dance binding together Kurdish communities while bristling with textural complexities that amplify local surroundings and affirm the diversity inherent to a Kurdish cultural outlook.
Further reading/watching:
Bulut, Gökhan and Cem Kaya. 2010. Arabeks: From Street Sound to Mass Culture. Kino und Fernsehen (documentary film).
Mater, Nadire. 1998. Voices from the Front: Turkish Soldiers on the War with the Kurdish Guerillas. Palgrave MacMillan
Reigle, Robert F. 2013. "A brief history of Kurdish music recordings in Turkey." Hellenic Journal of Music, Education, and Culture, vol. 4.
Scalbert-Yücel, Clémence. 2009. "The Invention of a Tradition: Diyarbakir's Dengbêj Project." European Journal of Turkish Studies 10.
Stokes, Martin. 1992. The Arabesk Debate: Music and Musicians in Modern Turkey. Oxford University Press.