To download the episode, subscribe to us in the iTunes store,  Spotify Podcasts, and Google Play.
In this episode, Rustin and Ali interview Dr. Kelly Anne Hammond, Assistant Professor of East Asian History in the Department of History at the University of Arkansas, about her book, China's Muslims and Japan's Empire: Centering Islam in World War II (University of North Carolina Press, November 2020).
During World War II, Sino-Muslims (Hui Muslims) were an important focal point for Imperial Japanese propaganda. Japanese imperial officials saw Sino-Muslims as crucial intermediaries that could help not only defeat nationalist and communist opposition in China, but also help bolster an image of the empire as anti-Western protectors of Islam. Building on an older academic tradition of Islamic Studies in Japan, knowledge of Islam was put into imperial service.  Combined with the patronage of Muslim schools, mosques, and hajj pilgrimage, the empire aimed to create transnational Muslim networks that were centered in Japan and used Japanese as their new lingua franca.
Dr. Hammond shows that these efforts were met with limited success due to the community's religious and political diversity, as well as the military defeat of Imperial Japan. Even those who were receptive to Japanese efforts ultimately had to ally themselves with other powers following the end of the war, yet the legacy of their role as intermediaries remained even in the Cold War era.
Guest:
Kelly Anne Hammond
Kelly Hammond is an Assistant Professor of East Asian History in the Department of History at the University of Arkansas. She specializes in modern Chinese and Japanese history, and her work focuses on Islam and politics in 20th-century East Asia. She serves on the editorial board of Twentieth-Century China and is also a fellow in cohort VI of the Public Intellectual Program sponsored by the National Committee on U.S.-China Relations.
Kelly (@kellyahammond) on Twitter
Hosts: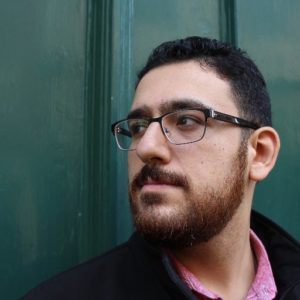 Ali Karjoo-Ravary
Ajam Editor. Josephine H. Detmer & Zareen Taj Mirza Assistant Professor of Islamic Studies at Bucknell University.
Ali (@alikarjooravary) on Twitter
Rustin Zarkar
Ajam Editor / Middle East & Islamic Studies Librarian at UNC Chapel Hill.
Credits
Episode No. 32
Release Date: 25 January 2021
Recording Location: Remote
Recording Date: 29 October 2020
Produced by Rustin Zarkar and Ali Karjoo-Ravary
Audio editing: Lindsey Stephenson and Nicholas Gunty
Music: Yavaran (Intro: "404 day in heaven" Outro: "Har Chi")
Cover Image: Photograph of Friday Prayers in the Tokyo Mosque, taken on October 7, 1938 (Source: Waseda University Special Collections, Photographs from the Greater Japan Muslim League, no. 203)