The following is an article by Zahra Khozema, a Pakistani-Canadian journalist currently based in London. She writes about South Asia and the diaspora. Follow her on Twitter.
While poetry may not be the first thing that comes to mind when you think of language learning, Urdu poetry is witnessing an online renaissance. It is fueled by sites and social platforms aiming to teach the language and, in the process, expanding poetry's role as a cultural and literary vehicle in South Asia and the diaspora around the world.
The language now called Urdu is an amalgamation of several languages, including Persian, Arabic, and various Turkic and Indic languages. While its roots are much older, it developed and flourished under the Mughal and British empires. During the Pakistan Movement in the 1940s, which aimed at the creation of the Dominion of Pakistan, Urdu was utilized as a symbol of identity uniting Muslims across the sub-continent.
Khushwant Singh, an Indian diplomat and writer who lived through the Partition era, wrote:
Aap Urdu seekhna chahte hain to ishq kar lijiye.
Aur agar aap ishq karna chahte hai to Urdu seekh lijiye.
If you'd like to learn Urdu, fall in love.
And if you want to fall in love, learn Urdu.
The couplet speaks to the romantic image many Urdu speakers have of their language, whether in India or Pakistan – the two main countries where it is spoken. Today, Urdu is spoken as a first language by almost 70 million people and 100 million more as a second language. But despite this romantic image and the language's historical importance, some see Urdu as under threat today due to the growing influence of English in South Asia.
In 2013, in an effort to preserve the language across the region, Indian businessman Sanjiv Saraf created the Rekhta Foundation, the world's largest site dedicated to promoting Urdu poetry and literature in South Asia. In conjunction with the site, Rekhta also has an Instagram account with over 500K followers. On it, the foundation shares ghazals (a poetic style with a particular rhyme scheme) and nazms (a form of descriptive poetry) by thousands of Urdu poets, some of whom date back almost three centuries.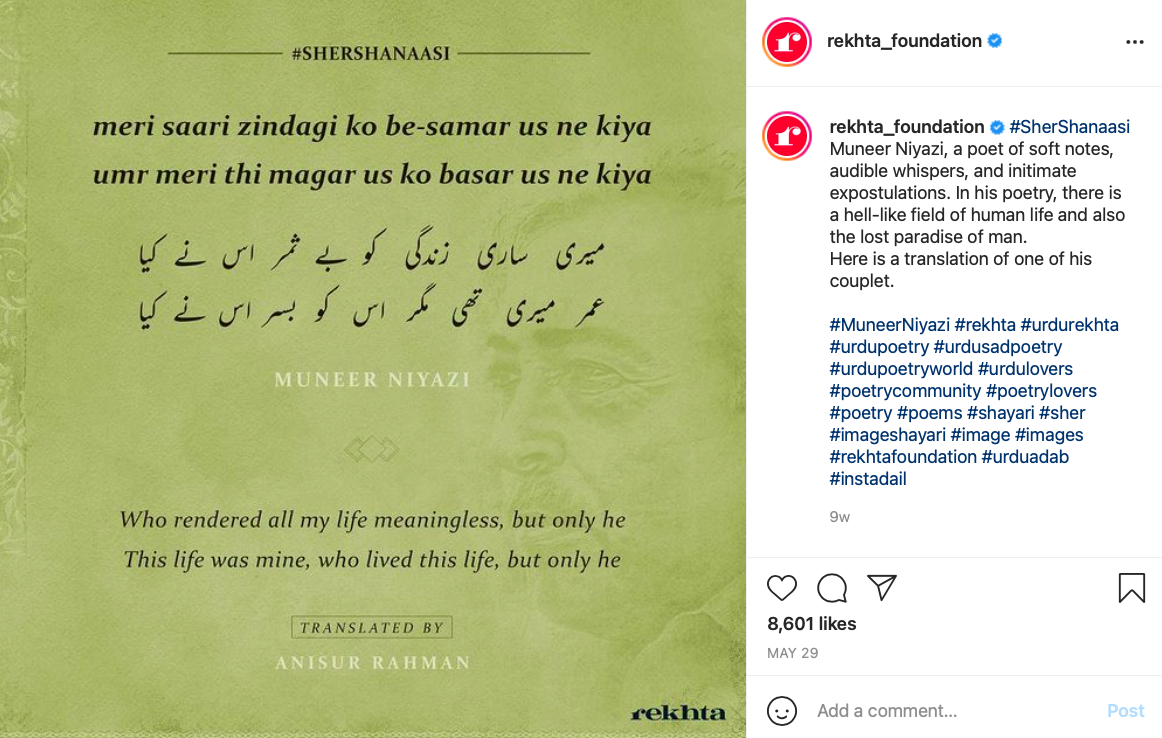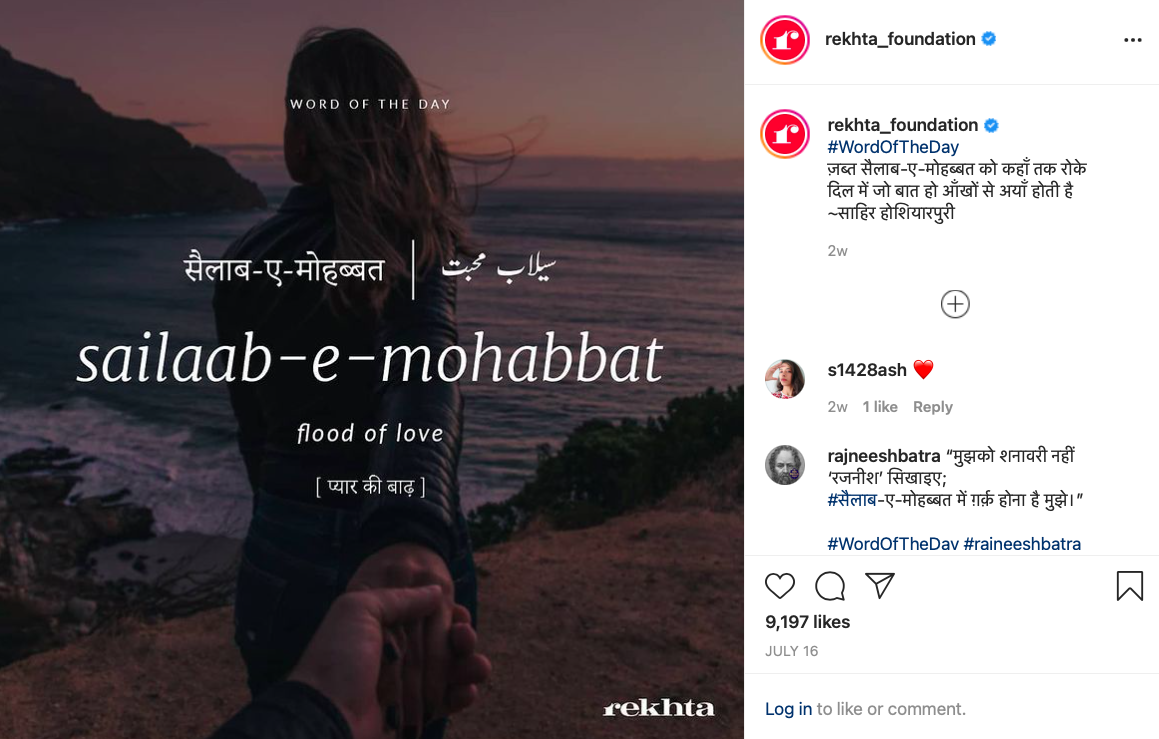 Image-optimized social platforms help connect content with a younger crowd compared to traditional methods of interacting with language. In the last few years, many Urdu poetry accounts with these motives have taken root, including Zer Zabar Paesh, Ishq Urdu, and Urdu Parhiye.
On of the most popular accounts is WordsinUrdu. With the mantra of "building love and familiarity with the Urdu language," WordsinUrdu's posts alternate between vocabulary and classical poetry, which the Pakistani-American creators Wafaa and Wajiha say helps increase their followers' reading capacities. The women also present translations, etymology, and the term or couplet's relevance in society today. Since its inception in early 2019, the account has collected over 122K followers.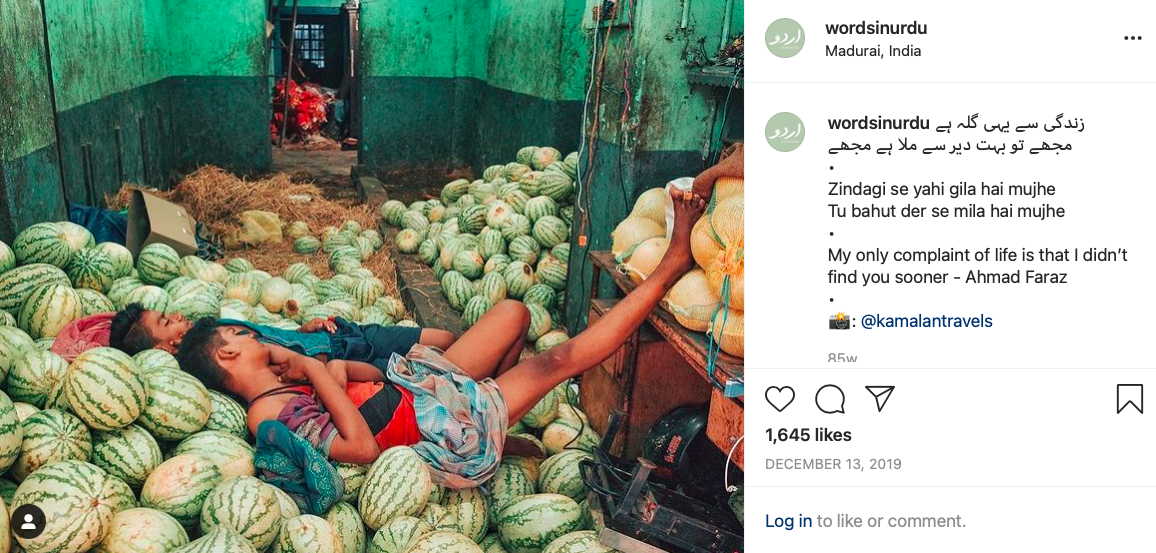 The two started WordsinUrdu to cater to an audience beyond those conversant in Urdu. "In the time that the page has grown, we've realized that this need and this enthusiasm for Urdu lies much beyond just the diaspora," whom they initially created the page for, they said. But Wafaa and Wajiha noted that people in South Asia also appreciated and resonated with the page despite being in regions that may already expose them to the language and the script. "There's something really neat about that."
Interestingly, some of the account's most engaged followers are Persian, Turkish and Arabic speakers, languages that share vocabulary similar to that of Urdu, they said. "It is really nice to see where the roots come from and the similarities," they added.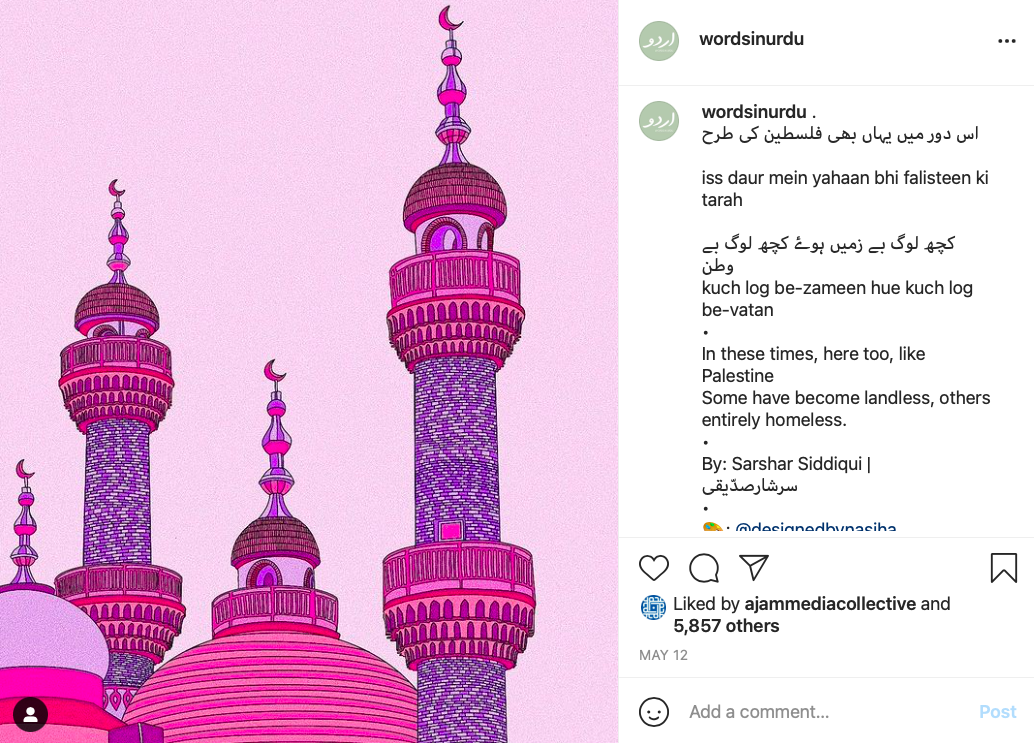 The pair make Urdu poetry accessible in Roman script, making it legible for both Urdu readers – who use an adapted version of the Arabic script, referred to as Nasta'liq – and Hindi readers – who use the Sanskrit writing system known as Devanagari. When spoken, Hindi and Urdu are mutually intelligible and considered dialects of a single spoken language referred to as Hindustani.
Social media's capacity for various phonetic transcriptions creates a "tendency towards romanization," which further dilutes the language, said Bilal Hashmi, an Urdu instructor at the University of Toronto. "The question of the script has gone out the door, and that's something that some people feel very nostalgic about."
However, Hashmi believes that the way people interact with Urdu poetry on digital platforms like Instagram takes older traditions into a new era. Accessibility to language lets people in India, Pakistan, and the diaspora interact with the subcontinent's social and political movements where "poetry always comes up."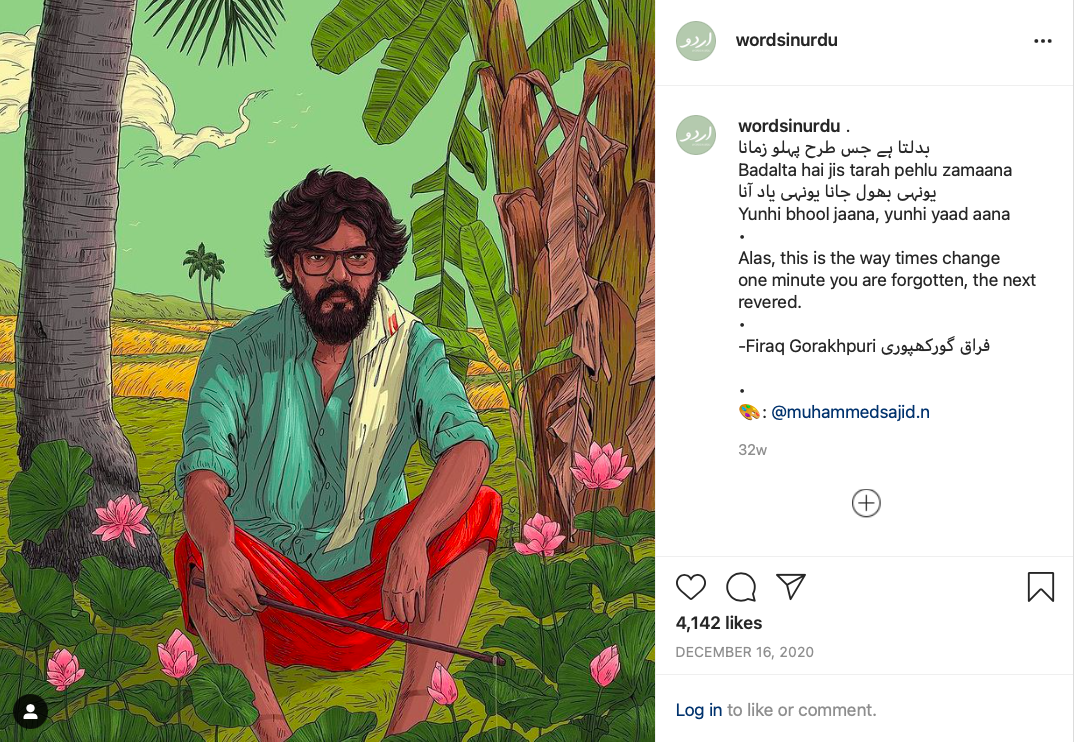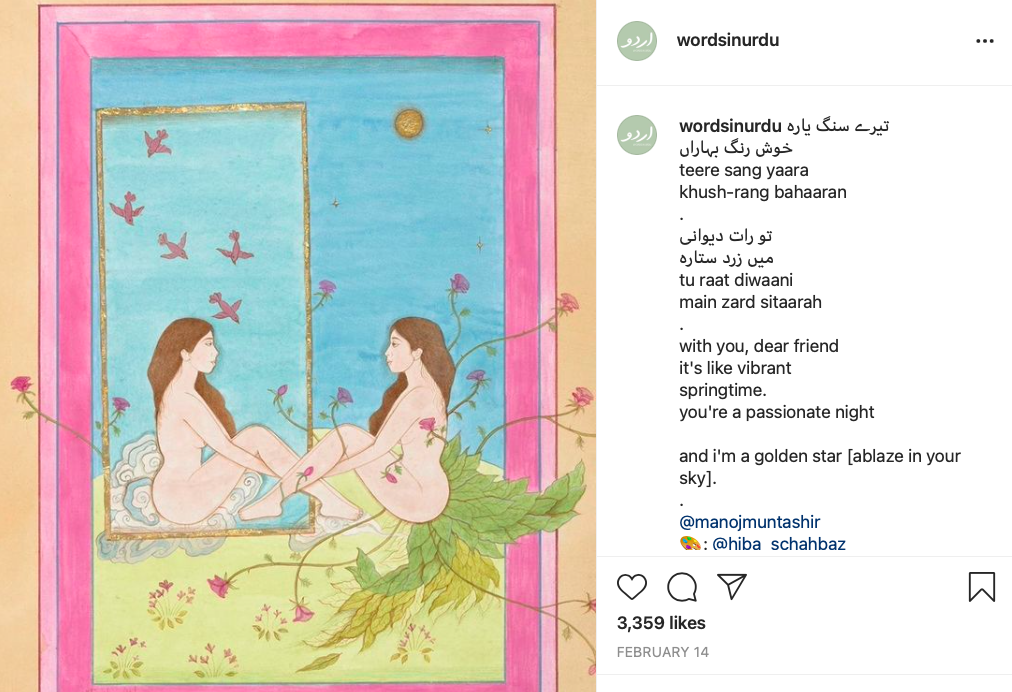 The role of poetry in South Asian history also helps Wajiha and Wafaa feel a common ground with the Urdu community on social media. When young people look at their heritage through the Urdu language, they better understand South Asia's strong tradition of political activism, they said.
In the early 1980s, many leftist activists and intellectuals who joined the cause to oust the Pakistani military dictator General Zia-ul-Haq were thrown behind bars. Faiz Ahmed Faiz's poem Hum Dekhenge (We Shall See) was recited during prison meetings and soon became a national anthem of protest and hope after Iqbal Bano rendered it in 1986.
Jab arz-e-Khuda ke Ka'abe se, sab buutt uthwaae jaayenge
Hum ahl-e-safa mardood-e-haram, masnad pe bithaaye jaayenge
Sab taaj uchhale jaayenge, sab takht giraaye jaayenge
From the abode of God, when the icons of falsehood will be removed
When we, the faithful, who have been barred from sacred places, will be seated on a high pedestal
When crowns will be tossed, when thrones will be brought down
Faiz was a communist who employed traditional religious imagery to attack political structures in his quest for revolution. In Hum Dekhenge, Faiz called Zia a worshipper of power and not a believer in Allah, merging the imagery of faith with revolution. He also used the description of Qayamat, the Day of Judgement, to the point to the communist day of revolution.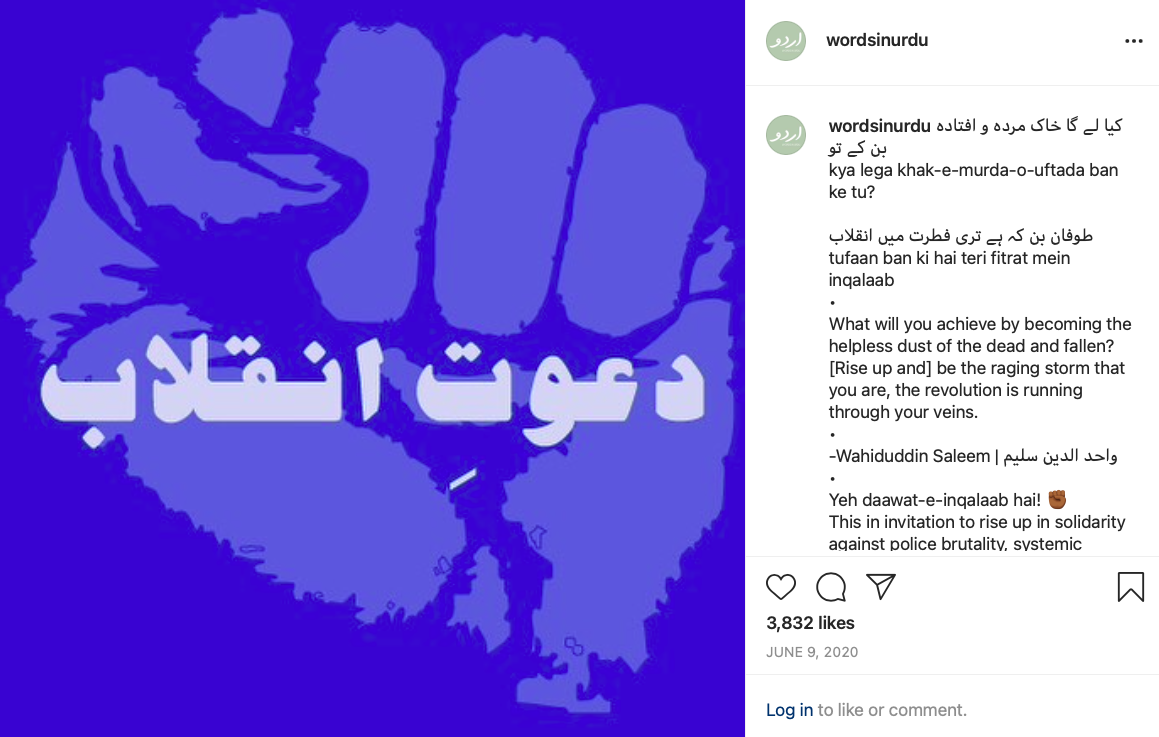 Similarly, during Pakistan's Aurat March ("aurat" meaning "women") on International Women's Day in 2018, protesters performed poetry to amplify their demonstrations, off and online. The anthem for the movement, Hum Inquilab Hain (We Are the Revolution) was sung on streets and hashtagged on social media.
By leveraging poetry, WordsinUrdu conducts campaigns on other social movements like Black Lives Matter, voter engagement in US elections and most recently, the ongoing farmers' protests in India. After sharing the definitions of vocabulary like kisaan (farmers) and gundum (wheat), they posted a couplet by Allama Iqbal, a poet from Sialkot, Pakistan, who wrote during the British rule.
جس کھیت سے دہقاں کو میسر نہیں روزی
Jis khet se dahqan ko mayassar nahin rozi
اس کھیت کے ہر خوشۂ گندم کو جلا دو
us khet ke har khosha-e-gandum ko jalaa do
That field which passes no sustenance to the peasant:
burn every stalk in that field. ⠀
"We're still fighting so many of the same battles when it comes to problematic ideologies in our own communities and regimes that maybe our home countries experienced that in some ways we are experiencing now," they said. "The idea of relevance when it comes to language never really dies."
When it comes to using social media as a vehicle to learn a language, Wafaa and Wajiha said that people want to turn their downtime of scrolling – which often results in a lengthy activity – into something productive. "It's very admirable of anyone that recognizes that and wants to use this as a way to learn something."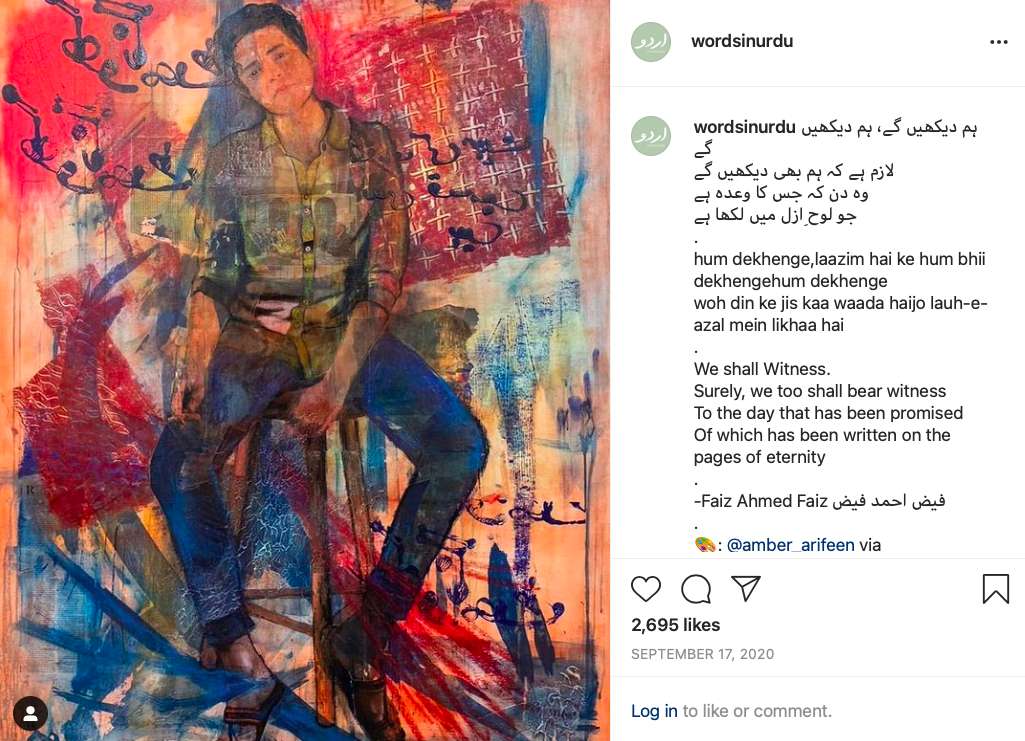 URLs of the Instagram accounts mentioned in the article:
Rekhta: https://www.instagram.com/rekhta_foundation/
Wordsinurdu: https://www.instagram.com/wordsinurdu/
Zer_zabar_paesh: https://www.instagram.com/zer_zabar_paesh/
IshqUrdu: https://www.instagram.com/ishqurdu/
UrduParhiye: https://www.instagram.com/urduparhiye/