The following was written by Aria Safar, the founder of Farr Collective. He works at the intersection of technology, graphic design, and community gathering.
It is the introduction for a collection of works focused around Persianate Futurism which invites writers, artists, and readers to draw inspiration from the region's unique collective past and experiences to imagine and construct novel future societies, economies, and cultures.
***
What will the Persianate world look like in 30 years? Last year at Nowruz, we entered the 15th century in the Solar Hejri calendar. As the Spring Equinox brought us into the year 1401, I wrote a piece challenging Nowruzis (people around the world who celebrate Nowruz) to envision possibilities for the future of the region. I asked us to imagine: how can we draw on our community's creativity and tenacity to imagine a better future for the Persianate world?
Building off of genres like speculative fiction and Afrofuturism, the authors of the following works build a new and challenging genre of Persianate Futurism that requires imagination beyond our existing paradigms. The richness of our history and culture can inspire alternative visions of society. We shouldn't rely on nostalgia or mythologies of past empires that seek to subjugate others. These alternate futures should serve our unique experience through new, hopeful possibilities, rather than just through a copy-paste of existing models made for other people and worlds.
Persianate Futurism gives us an opportunity to hope for something better. Nowruzis in Southwest and Central Asia, as well as in the diaspora, will bring their unique collective past and experiences to bear in constructing novel future societies, economies, and cultures that help us dream of a better world.
The authors of the following works seek to launch our imaginations with works that begin a dialogue on what our future will look like. They include:
These works mark the beginnings of a new genre whereby we build a language to imagine the future of the Persianate world. The authors of these pieces, some of whom live in Iran and others in the diaspora, are all Iranians. But we believe that this project should expand to include a wider Persianate world; one where political entities and boundaries don't limit our imaginations or ability to connect with one another.
The imagination of Nowruzis from Afghanistan, Central Asia, the Caucasus, and beyond will make our future world so much richer. As we continue to picture what the next 30 years will look like, we invite you all to share with us what captures your attention, and how you will be a part of imagining our futures. Drop us a line at info@ajammc.com.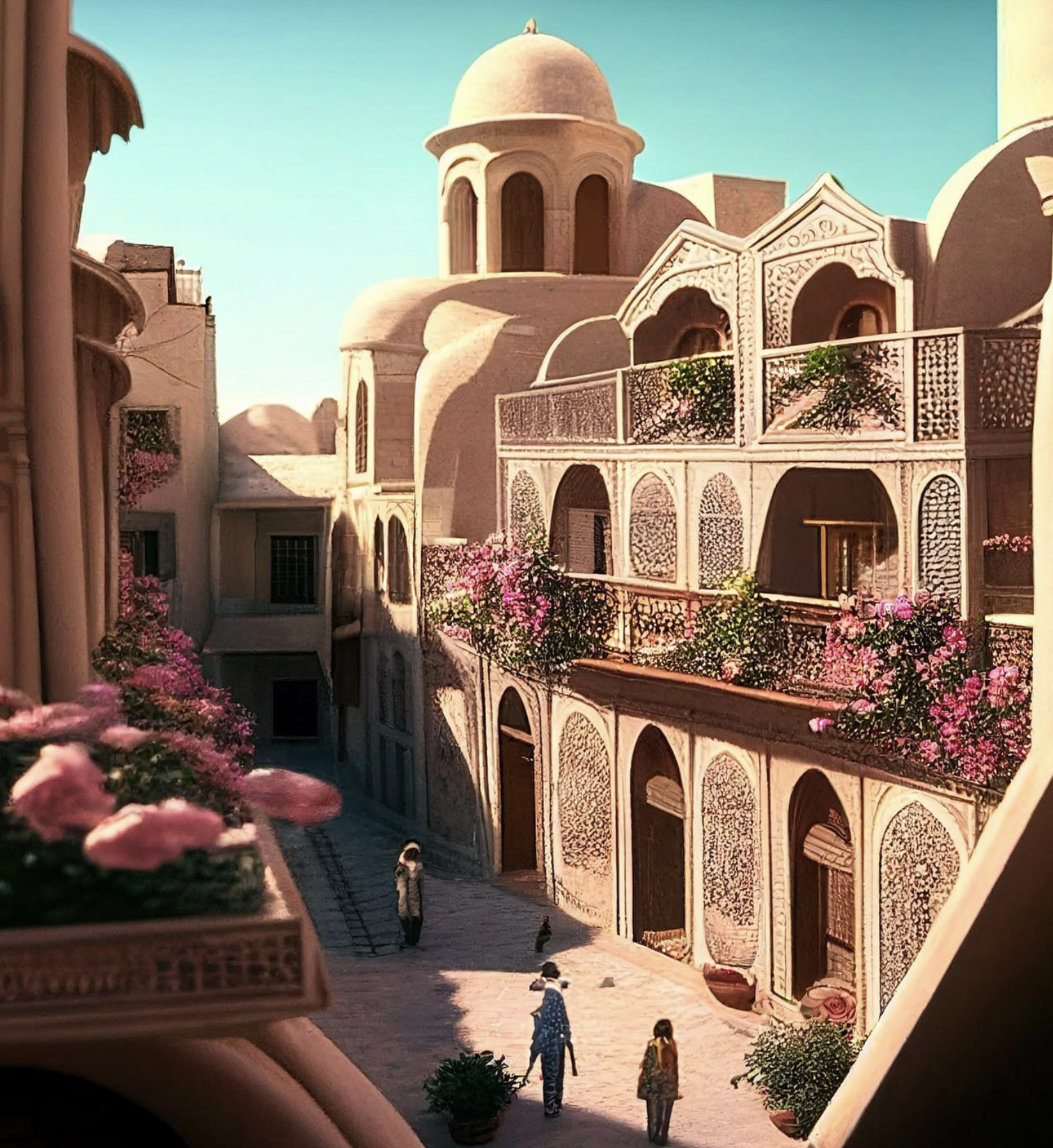 ***
All of the pieces in this series are accompanied by Generative AI images. This has been carried out under the direction of Sina Fakour, a visual artist, graphic and type designer based in Lyon, with the images related to Kashan created by Iranian artist Kaveh Dadgar. Sina Fakour explains the reasoning as follows:
Each photo is unique as it captures a time-space that will never repeat again. When we push the shutter button of a camera, objects, people and environment are captured in a fraction of a second. The moment a photo is captured it already belongs to the past; it will rest in our albums as a memory. But what about the future? Can we take a photo of a moment in the future? Can we collectively  make an image of our collective imagination of the future? 
The images for the following texts are generated through artificial intelligence (AI) and by typing our imaginations in words to AI platforms. The database that AI uses is composed of the billions of photos that have been uploaded by individuals, corporations, and governments to the internet and the descriptive text associated with them. The final AI-generated image is a collective product. It has no single reference; it is made up of all the images humans have produced that it is drawing upon. In this way, AI uses past images to imagine the future. 
While trying to generate images of the future of Iran, AI platforms had a hard time imagining Iranian women with diverse choices of clothing, defaulting to depicting them with prevailing and outdated global media stereotypes. This means that as Nowruzis across the region and in the diaspora, our challenge is to produce more visions of alternative futures. We should photograph, film, write, and illustrate alternative realities of freedom for AI to pull from to help us imagine even better futures.
As the prevalence of AI grows, we must continue to critically think about its outputs and inputs. This is why the words we use as prompts in AI are important. Our words, photos and thoughts today form our image of the future.