This essay is based on a talk presented at Stanford University on February 21, 2012 by Majid Naficy.
Los Angeles is sometimes called Irangeles, because more than half a million Iranians live there. Most of them have come to this city during or after the 1979 Revolution. They were either beneficiaries of the fallen monarchy or supporters of the revolution who became disillusioned and suppressed by the rising theocracy. Soon after arrival, Iranians established Persian radio, television and newspapers as well as bookstores and music shops in Los Angeles.
Iranians are very proud of their classical poetry and consider the national epic of The Shahnameh, composed by Ferdowsi a thousand years ago as the symbol of their nationality. Therefore, it is not surprising that covering Persian poetry in Iranian media, selling classical collections of poetry in bookstores and teaching Rumi and Hafez in private classes spread rapidly among Iranians in Los Angeles.
Today, the Iranian community in LA has many poets. Some of us, such as Nader Naderpour, Partow Nuriala, and myself had published collections of poetry at the time of the Shah in Iran. Others, like Abbas Saffari and Liela Farjami publish books of poetry both in Los Angeles and Tehran. Katayoon Zandvakili and Sholeh Wolpe write poetry only in English. Azadeh Farahmand writes poetry in both languages. I myself compose poems first in Persian and then translate them into English.
Fourteen years ago, on March 20, 1998, I hosted a poetry reading in celebration of Persian New Year in Beyond Baroque Literary/Arts Center in Venice Beach in which five poets, Nader Naderpour, Partow Nuriala, Mansour Khaksar, Abbas Saffari and myself read poetry in Persian and English. My late friend Harriet Tannenbaum read the English versions of Naderpour for him. Today, two of these poets are no longer living. Naderpour passed away in 2000 and Mansour Khaksar committed suicide in 2010.
In order to show you a sample of Persian poetry in Los Angeles, I would like to revisit these five poets and share a poem by each with you. By selecting these poems, I do not want to ignore other poets whom I have already mentioned or other poets such as Hamid-Reza Rahimi, Yashar Ahad-Sarmi, Khalil Kalbasi, Fazlloh Rowhani, Mortaza Miraftabi, Fariba Sedighim, Farzad Hemati, Sheida Mohamadi, Ali-Reza Tabibzadeh Behzad Razaqi, Manuchehr Kohan Freeda Saba, and Mandana Zandian who have published collections of poetry in Los Angeles. Hopefully one day I will be able to publish an anthology of Persian poetry in Los Angeles and include the works of all my fellow poets.
In this brief study, I focus on one question: are these poets still dreaming of going back to their homeland or have they come to some degree of acceptance of their adopted country?
Neither of these two tendencies has artistic merit over the other one. Nostalgia and adaptation are two common moods among human beings and both can become the subject matter of poetry. Perhaps, nostalgia is not a good recipe for an exile who cannot go back to his or her homeland. But it is definitely as interesting as cultural adaptation for a poet to write about. In Western poetry, we have, on the one hand, Homer's The Odyssey in which a victorious but cursed-upon hero of the Trojan war longs for his homeland and, on the other hand, Virgil's The Aeneid, in which the losers of the same war sail to a new land, Italy, and make it their new home. We need both of these epics, because nostalgia and adaptation are both parts of human migration and exile. Among our five poets, Naderpour is the one who never comes at peace with Los Angeles. Next to him is Mansour Khaksar who in spite of calling one of his collections of poetry Los Angelesinos remains apart from this city. (1)
Nader Naderpour was born in 1929 in Tehran and published his first poems in the newspapers run by the Soviet-oriented Tudeh Party in the 1940s. In the introduction to his first collection of poems Eyes and Hands (chashmha va dastha) published in 1954, he rejected the modernist poetry of Nima Yushij (1896-1960) in which classical meter and rhyme are "broken". Instead, he adhered to the neoclassicist poetry of Mohammad-Taqi Bahar (1885-1951) in which only diction and imagery are updated and the traditional prosody is kept intact. (2) In the 1960s and 70s Naderpour worked as editor of two prestigious art magazines published by the Ministry of Art and Culture, as well as the chief of Contemporary Literature Division in Iranian National Radio and Television. At the same time, he was one of the signatories of Iranian Writers Association in 1968 who opposed state censorship. In 1980 in opposition to Khomeini's regime he traveled to Paris where his daughter lived. Finally, in 1987 he moved to Los Angeles.
While in exile, Naderpour published three collections of poetry of which False Dawn (sobh-e dorughin) has been translated into English by Michael Hillman in 1986. In Los Angeles, Naderpour worked with Persian radio and television broadcasting from Los Angeles as well as Persian exile magazines published in other cities. He taught classical Persian poetry to Iranians mostly outside of academia. In his introduction to his last collection of poems Earth and Time (zamin va zaman) published in 1996 in Los Angeles, Naderpour accepts that Nima Yushij's innovation in Persian poetry was a "social necessity" and Naderpour himself began to compose poetry in the style of modernists. Most of the poems in this collection are dark and reflect the poet's fear of old age and death as well as longing for his homeland. In fact, the title of the collection Earth and Time expresses the anxiety of the poet for losing his youth and land. Naderpour's nostalgia is sometimes accompanied with hatred toward his adopted city, as seen in "The American Night" written in December 1994. Here, he compares the "city of angels" (Los Angeles) to a "hell" and its inhabitants to "satans" and "quasi-human":
The American Night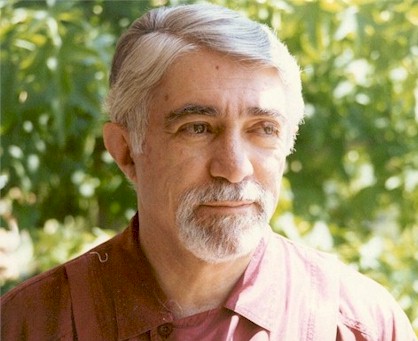 The place of my exile
Is a city on the shore of a Western sea
With old palm trees and new palaces
Taller than imaginary giants.
This city for greedy earthlings
Is home to the angels
But it is a hell with the beauty of the paradise
That from the beginning of illusionary cosmos creation
Has allowed satan to its solitude.
These human-like creatures who occupy this city,
Oblivious to destiny of their ancestors
Are longing for another forbidden fruit.
Today, at nightfall
The old sun in the burning fever of madness
From the peak of the greatest skyscraper
Threw itself on a sea cliff and died.
And yet, the tall city windows
Do not believe its black death
As if, they are
Waiting for a miracle from the East.
After its death
There is no star in this exile night
Because all stars are lost
in the warm smoke of clouds
And the spark of their delicate gazes
Are only hidden in the small raindrops,
As pure as the pigeons' eyes.
In a night more naked than a black marble
I walk on a carpet of autumn leaves
With my gaze at the passing birds.
The tears pouring from the sky
And dripping into my gazing eyes
Resemble pieces of glass that through them
stones, plants, animals and men all look drenched.
I inhale the scent of the earth through fall breeze
And drink it as bitter wine,
In memory of my ruined mother land
And I begin to cry.
This time, through my eyes
From behind their tears, not from clouds' tears
I see vividly that on both sides of the road
The colorful images of a hundred city lights
Are floating on the rain water puddles.
I open a path toward my home
In the empty streets of this city full of trees.
Amidst the humming wet branches
And become weary
From the footsteps of a stranger
Who in the middle of night is accompanying me
Without being my companion
Although our steps are the same.
Suddenly, over the faraway trees
The thick smoke of clouds
Begin to scatter by the attack of winds.
Night also, ironically
exposes in front of me
The unmasked moon's coquettish face
And a masked attacking thief.
Staring at the handgun of this robber
I realize that in the city of angels
Satan and God are brothers. (3)
Mansour Khaksar was born in 1939 in Abadan. In the early 1960s he co-edited a southern literary magazine with the well-known writer Nasser Taghvai. Khaksar was arrested in 1967 and imprisoned for two years because of his Marxist Tendency. Two years later, he wrote a long poem The Story of Blood (karnameh-ye khun) and published it anonymously. It represented the feelings of young Marxist revolutionaries called People's Fadaee Guerrillas who took arms against the Shah's regime in the early 1970s. In 1975 he traveled to London and worked as a bank accountant while pursuing his clandestine activities for Fadaee's organization. When revolutionary poet Sa'id Soltanpour (1940-81) was released from prison and went abroad, he and Khaksar with three other activists who had suffered the Shah's political prison, established a committee called From Prison to Exile (az zendan ta tab'eed). This committee organized many gatherings in support of the rising revolution in Iran. Before the collapse of the monarchy, Khaksar returned to Iran and became one of the founders of Fadaee's organization in southern Iran. When Khomeini's regime began to suppress the opposition, he fled to Soviet Azerbaijan in 1984 and two years later went to Germany. Upon separation from his wife, Khaksar moved to Los Angeles in 1990 where he worked as an accountant until his suicide in March 2010. He is survived by two daughters. Khaksar co-edited daftar-ha-ye shanbeh and daftar-ha-ye kanun the journals of a literary circle in Los Angeles and the Iranian Writers' Association in Exile respectively, as well as the poetry section of Arash magazine published in Paris. He published a dozen collections of poetry in Los Angeles, including qasideh-ye safari dar meh (The Ode of A Journey in Fog) in 1992 and losanjelesi-ha (Los Angelesinos) in 1997. (4) In the first book, a long narrative about his coming to exile, Khaksar breaks with his group mentality in the past and searches for his own individuality. In the second book, which consists of 23 connected short poems, he often expresses loneliness and isolation in exile and longing for his homeland. In one of these poems (p. 32), which he has written in Santa Monica beach, he reminisces of his youth in Abadan at the Persian Gulf while looking at the Pacific Ocean:
I am staring at the ebbing sea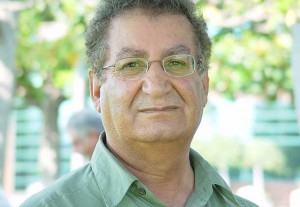 And the winter sun
Has made me naked.
I am fully revealed
Like a worn-out book.
I am a ruined past
From a distant tribe
Whose palm trees make me naked
In the arms of water and fish
And seamen's hums
And an aging memory
With no rain on high hills.
The night is approaching
And I am standing against it
With bitter resources
That kindle no lamp.
Where is my youth At twenty?
When I stepped upon the horizon
And set fire to the house
With no fear of tomorrow.
A crescent moon has opened arms in solitude,
But does not camp within me.
For hours
I've been floating on the shallow water
And the nightly world has been chasing me.
To count the delays of returning home
I plant the paddle of wind in the water
And grow in its sail.
My vision is blurred
I have made the sky cloudy
And sail aimlessly. (5)
Partow Nuriala was born in 1946 in Tehran. Her first collection of poetry sahm-e salha (A Share of the Years) was banned in 1972. She played in the movie aramesh dar hozur-e digaran (Calmness In the Presence of Others) directed by Nasser Taghvai which was also banned. Nuriala earned her BA in Philosophy from Tehran University and later taught a course in the same field. Her husband was the well-known poet Mohammad-Ali Sepanlou. She moved to Los Angeles in 1986 with her two children and worked as a Deputy Jury Commissioner at the Los Angeles County Superior Court until retirement. In addition to a book of literary criticism, Partow Nuriala has published five collections of poetry of which the first two volumes are mostly related to social issues before and during the revolution. Her latest collection az dar ta bahar (From Gallows to the Spring) contains poems written after the 2009 June uprising in reaction to presidential election rig. She considers herself a feminist and two of her longer poems "I Am Human" and "Four Seasons" relate the story of a woman in a patriarchal society. In her poems written in exile, one can hardly find either nostalgia for her life in Tehran or references to her adopted city Los Angeles. An exception is her poem "Many Happy Returns" written in 2004 in which past and present are combined:
Many Happy Returns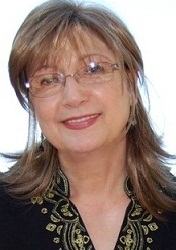 Five mornings a week
Fifty weeks of mornings
My sun rises
In the rear-view mirrors of buses
And each day in the old courthouse
Awaits me a small desk
An English-Farsi dictionary
A heap of summonses– a spiraling justice
And the relentless ringing of telephones.
On my cubicle wall
a tacked postcard
— White -flower stem on black background —
(Uproar of love between the lines on back )
A memory we lived
As Schubert
Passes through
My transistor radio.
On the opposite wall is an image
Of Maya Angelou, Ahmad Shamlou
Freeway maps
And a rendition of a love poem by Paz.
All day, wandering files
Are run through the copier
As are the throbbing of my tongue
In the veins of a most foreign language .
Each dusk, returning home
I halt passersby in search of
My lost days–
— In Los Angeles —
And ask the police
After that young woman
Whose hands were chained
In this house of fortune.
"Many Happy Returns!"
The voice of he Who is in love
Ripples through my house
Via the answering machine.
A feverish teardrop waters
A burnt jasmine leaf.
And then,
traipsing in books
And stitching clothes;
Reading, writing, cooking
Washing, scrubbing
Surfing the web
Typing, sewing
Weaving memories;
Thread to thread, one by one
Moss stitching:
One stitch over, one under
one row crimson
One the color of sorrow.
And when night falls
So the heaviness of habit
Scours not my spirit,
Hidden from the moon
I unstitch the old threads
And send my keen eye
Clad in a gilded gown
Off to tomorrow. (6)
Abbas Saffari was born in 1951 in Yazd. In his youth he wrote lyrics for the late avant-garde pop singer Farhad. He moved to the US in 1979 and lives with his American wife and their two children in Los Angeles. He ran a small waterproofing business until retirement. Saffari has been the poetry editor of two Persian literary magazines Sang and Kaktus while in exile. He has published several collections of poetry both in Iran and abroad including tarik-roshan-ye hozur (Twilight of Presence), Kebrit-e sukhteh (Burnt Matches) and durbin-e qadimi va she'r-ha-ye digar (Old Camera and Other Poems). Contrary to the other poets in this survey, he rarely writes political poems. In his poetry one finds many references to life in Los Angeles. In his last two collections of poetry, he has developed an appreciation for playing on words as well as a sense of humor, as seen in the following poem, published in 2005 in Burnt Matches:
Saturday Night Dinner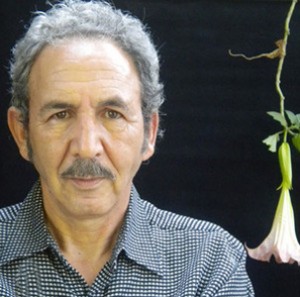 The onion, I will grate
To keep my stream of tears from drying.
The potato, you peel
For your sleight of hand with skin.
Let Nusrat Fatah Ali Khan, the Sufi minstrel play
For he opens us a window to Konya,
A window adorned with narcissus, sleepy-eyed and languorous,
And a handful of homing pigeons.
If they call
From MasterCard
Or the Internal I-don't-have-any-Revenue Service
Tell them he's gone to Kashmir
Looking for the long-lost polo ball of King Aurangzeeb of India,
And it's unclear when he'll be back.
Don't laugh , my darling!
Cultural misunderstandings
Dismiss the disturber
Quicker than hollow conversation.
Now, while this aged Indian rice ripens,
Put two glasses, lip to lip, near our hands
Of our oldest vintage, four years old
And a reminder of a century past.
A sip of good wine
Is enough to erase an entire century from one's memory.
Sip after sip
We can backtrack so far
That after dinner
We can find ourselves in the moonlight
Palm groves of Mesopotamia,
And around midnight
In a primordial place naked
And boundless. (7)
I, Majid Naficy, was born in 1952 in Isfahan. My first poems were published in Jong-e Isfahan when I was 13, and my first collection of poems dar pust-e babr (In the Tiger's Skin) at 17. In 1983 I fled Iran, a year and a half after the execution of my wife Ezzat Tabaian in Evin Prison. I moved to Los Angeles in 1984 where I live with my son Azad. I have published two collections of poetry Muddy Shoes (Beyond Baroque Books 1999) and Father and Son (Red Hen Press 2003) as well as my doctoral dissertation Modernism and Ideology in Persian Literature: A Return to Nature in the Poetry of Nima Yushij (University Press of America 1997).
In June 1995, in a conference entitled "Writing in Exile" sponsored by The Institute for European-American Relations at University of Southern California in Los Angeles I had a talk called "A Reader Within Me" which I summarize here. (8) "When I fled Iran I brought my reader along with me. For half a decade, when I picked up my pen as a poet I was driven to write for that reader. Although he traveled abroad with me he still lived in Tehran, spoke only in Persian, preferred Iranian food and thought within the framework of Iranian culture. A good example of this can be found in my second collection of poems in Persian pas az khamushi). After the Silence published in 1986. Except for fewer than ten poems, all of the poems in this collection were written about the Iranian situation in the past and present. The poet is still haunted by the phantom of the lost revolution which was crushed by a new regime of theocracy. My body lived in L. A. but my soul was still rummaging through the ruins of a lost revolution in Iran. In my next collection of poems in Persian Anduh-e marz (Sorrow of the Border) published in 1989, the proportion of poems reflecting the new situation has increased drastically. In a very long poem, dedicated to my newborn son Azad, not only do I depict my bilingual world by including quotations in English within the body of the Persian text, but I also see my son as my own new root growing in my adopted country. In the next collection she'r-ha-ye venisi (Poems of Venice) published in 1991, the reader finds different aspects of life at Venice Beach where I lived for seven years. A turning point in this long journey from the realm of self-denial to acceptance and adaptation, is when I wrote a long poem on January 12, 1994 called "Ah, Los Angeles". In 2000, the city of Venice engraved one fragment of this poem in a public space at a wall at Boardwalk and Brooks street. (9) In this poem, there is a reference to Parsees in Sanjan, India, by which I want to compare Iranians who emigrated to Los Angeles with Parsees, the descendants of Zoroastrians who during the Arab conquest of Iran emigrated to Gujarat, India. In 1599, Bahman Key Qobad, a Gujarati Parsee wrote an epic in Persian in which he narrated the voyage of Parsees' ancestors from the Strait of Hormuz in the Persian Gulf to the port of Sanjan in Gujarat. Here is the revised version of the poem first published in Muddy Shoes in English:
Ah, Los Angeles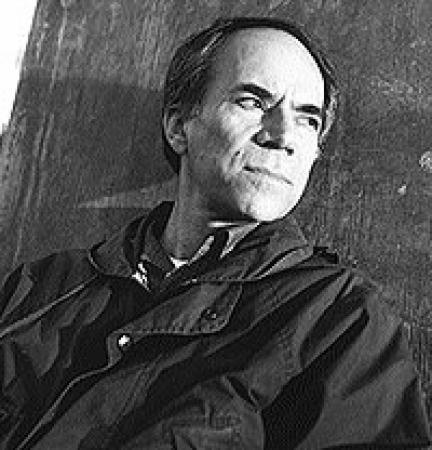 Ah, Los Angeles!
I accept you as my city,
And after ten years
I am at peace with you.
Waiting without fear
I lean back against the bus post.
And I become lost
In the sounds of your midnight.
A man gets off Blue Bus 1
And crosses to this side
To take Brown Bus 4.
Perhaps he too is coming back
From his nights on campus.
On the way he has sobbed
Into a blank letter.
And from the seat behind
He has heard the voice of a woman
With a familiar accent.
On Brown Bus 4 it rains.
A woman is talking to her umbrella
And a man ceaselessly flushes a toilet.
I told Carlos yesterday,
"Your clanging cart
Wakes me up in the morning."
He collects cans
And wants to go back to Cuba.
From the Promenade
Comes the sound of my homeless man.
He sings the blues
And plays guitar.
Where in the world can I hear
The black moaning of the saxophone
Alongside the Chinese chimes?
And see this warm olive skin
Through blue eyes?
The easy-moving doves
Rest on the empty benches.
They stare at the dinosaur
Who sprays stale water on our kids.
Marziyeh sings from a Persian market
I return,homesick
And I put my feet
On your back.
Ah, Los Angeles!
I feel your blood.
You taught me to get up
Look at my beautiful legs
And along with the marathon
Run on your broad shoulders.
Once I got tired of life
I coiled up under my blanket
And remained shut-off for two nights.
Then, my neighbor turned on NPR
And I heard of a Russian poet
Who in a death camp,
Could not write his poems
But his wife learned them by heart.
Will Âzad read my poetry?
On the days that I take him to school,
He sees the bus number from far off.
And calls me to get in line.
At night he stays under the shower
And lets the drops of water
Spray on his small body.
Sometimes we go to the beach.
He bikes and I skate.
He buys a Pepsi from a machine
And gives me one sip.
Yesterday we went to Romteen's house.
His father is a Parsee from India.
He wore sadra and kusti
While he was painting the house.
On that little stool
He looked like a Zoroastrian
Rowing from Hormuz to Sanjan.
Ah, Los Angeles!
Let me bend down and put my ear
To your warm skin.
Perhaps in you
I will find my own Sanjan.
No, it's not a ship touching
Against the rocky shore;
It's the rumbling Blue Bus 8.
I know.
I will get off at Idaho
And will pass the shopping carts
Left by the homeless
I will climb the stairs
And will open the door.
I will start the answering machine
And in the dark
I will wait like a fisherman. (10)
January 2012
1. "Odyssey or Aeneid? A Look into Mansour Khaksar's Los Angelesinos" in Majid Naficy she'r va siasat va bist-o chahar maqaleh-ye digar (Poetry and Politics and Twenty-Four Other Essays) Sweden, Baran publisher, 2000
2. "Lamenting for a Poet in Exile" in Majid Naficy man khod iran hastam va si-o panj maqaleh-ye digar (I Am Iran Alone and Thirty-Five Other Essays), Toronto, Afra-Pegah publishers, 2006
3. Naderpour has dedicated this poem to Majid Amini who translated it into English for me. I edited his translation here.
4. Khosrow Davami, An entry on Mansour Khaksar in Encyclopedia Iranica online
5. The translation is mine.
6. Belonging: New Poetry by Iranians Around the World Edited and Translated by Niloufar Talebi, North Atlantic Books, 2008 7. Translated by Niloufar Talebi in Strange Times, My Dear: The Pen Anthology of Contemporary Iranian Literature Edited by Nahid Mozaffari and Ahmad Karimi-Hakkak Arcade Publishing, 2005
8. "A Reader Within Me" in Majid Naficy Muddy Shoes Beyond Baroque Books, 1999
9. Louise Steinman Poet of the Revolution: Majid Naficy's Tragic Journey Home LA Weekly, February 15, 2001. Available online.
10. Majid Naficy Muddy Shoes Beyond Baroque Books, 1999.
——-
For the Persian version of this essay, check out: