This year marks 100 years since the beginning of the Armenian Genocide.
In 1914, two million Armenians were living across central and Eastern Anatolia, alongside Turkish, Kurdish, Assyrian, Greek, and other communities. The region was comprised of different ethnicities, religions, and identities often living in close proximity. While not without conflict, nevertheless these communities were able to live alongside each other and this landscape served as the setting where Armenian life and culture were able to flourish.
Beginning in the late 19th century, the Ottoman Empire subjected the Armenian and other minority communities of Anatolia to brutal pogroms. Within five years, the Armenian and other minority communities were nearly wiped out of the Anatolian region.
By the 1920s these pogroms had resulted in the mass killing or deportation of nearly all Armenian–as well as Assyrian and Pontic Greek–communities in hundreds of cities and villages across the region stretching from Van in the East, to Adana in the South, to Samsun in the North. This was a tragedy felt across the world of Ajam, but it was that very same world (and beyond) that took in these people, and where the process of rebuilding was able to begin.
In Aleppo, Fresno, Marseille, Isfahan, Jerusalem, Beirut, Basra and beyond, these refugees joined existing Armenian communities and created entirely new ones. Despite the horrific events of the Genocide, the global Armenian community has been able to not only fight for justice and demand recognition of this tragedy, but also thrive in ever-changing and exciting ways.
The accomplishments of the Armenian community are too numerous to list, yet it takes only a few examples to show that these refugees not only survived, but also created their own conditions for prosperity.Just a few decades later, many of these same communities of survivors even helped other traumatized refugee groups from Poland and other parts of Europe assimilate and reclaim their lives in the wake of World War II.
We have accounts of these fatal genocides from survivors who have shared their stories, often consistent in their descriptions of the execution of all men, with the women and children rounded up and sent on death marches across the Ottoman Empire. Because these fatal acts took place during World War I, many have tried to deny the horrific and vicious nature of the ethnic cleansing and blamed the wartime environment for these concerted genocidal efforts.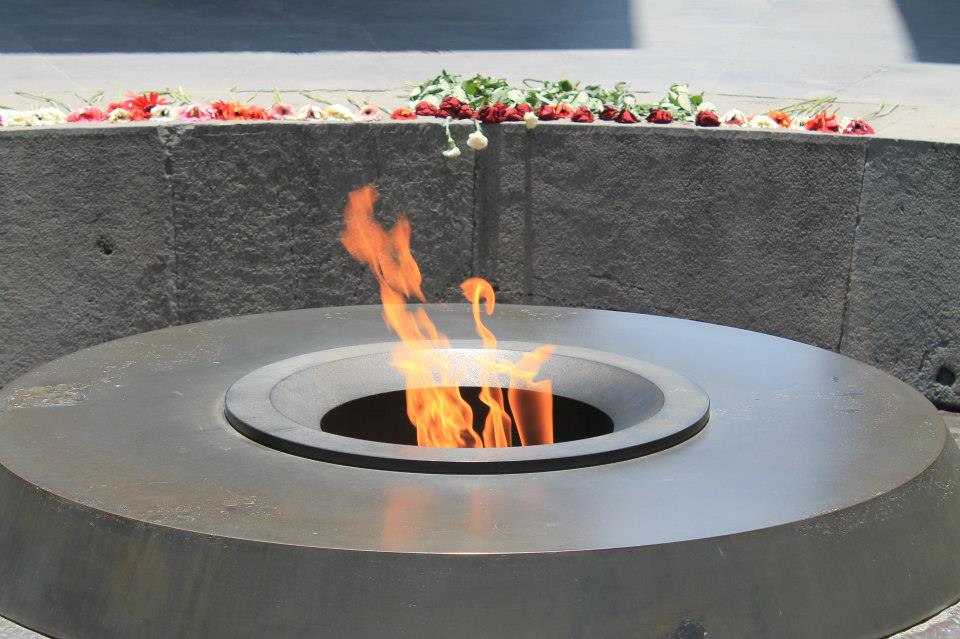 We here at Ajam Media Collective have covered Armenian heritage and contemporary life in many ways: from explorations of modern Yerevan, to similar contemplations of Armenian historical geography, and complex questions of preservation and remembrance. Yet these articles only scratch the surface of the past and present of the Armenian people.
In this post, we highlight but a few cultural organizations and producers whose work we value in many different fields, be they be they involved in art, political organizing, or civil society building. This list is not comprehensive, but simply an attempt to highlight important projects that are ongoing. We have collaborated with some of these organizations in the past, and would love to work with all of them in the future.
In presenting such a list at this important moment for the Armenian community and for global society, we hope to amplify the call of many Armenians in one way: to not only focus on righting the wrongs of the past, but to not forget about the living and about their futures.
An independent Armenian news magazine founded to usher in a new generation of Armenian journalism. The articles are not only a fresh take on stories about the Armenian community, but are in their own right riveting and well-researched pieces of contemporary journalism.
2. Hye-Phen
A self-described digital media collective and global cybercollective for Armenians to bring voice to queer, trans*, feminist, and radical voices within the community and beyond.
3. Houshamadyan
A nonprofit seeking to "reconstruct and preserve the memory of Armenian life in the Ottoman Empire through research." This work stretches from material culture to linguistic studies, and is mostly available online through a unique take on a digital archive.
Founded after the assassination of Armenian peacemaker Hrant Dink, the organization works in many areas in an attempt to build a better future for Armenia, Turkey, and relations between the two.
5. Pink Armenia
An Armenia-based organization that focuses on civil society issues regarding LGBTQ rights, sexual and reproductive health, and ending discrimination in Armenian society.
6. Ara the Rat
A tongue-in-cheek take on "nationalist" clothing, featuring artfully designed and screen printed t-shirts. 
An Armenian version of the "Humans of…" photoblogs online, featuring bilingual posts in English and Armenian.
One of the first American relief organizations in the region. In its early inception, the organization gave direct aid to Armenian, Assyrian, and other victims of the genocide. 
An American-Armenian platform that tries to bring a creative and technology-based approach to development in Armenia and the diaspora.
The 100 Lives project seeks to collect stories from Armenian genocide survivors and from those who helped them, and link this remembrance and celebration to further humanitarian projects.
Armenia Tree Project attempts to mainstream environmental consciousness and ecological protection in Armenia. Since 1994, they have planted and restored over 4.5 million trees in the country.
Based in Massachusetts, the museum locates, collects, and preserves Armenian history and culture.
13. Assyrian Hakkari and Bohtan Community
This Facebook page commemorates the memory of the Assyrian cities of Hakkari and Bohtan whose residents were also killed and forcibly removed in the events of 1915.
14. The Armenian Diaspora Project
A photographic project that seeks to document the vibrancy of the global Armenian community, "beyond 1915."
Hrant Dink's words offer a reminder for how to carry forward:
"Yes, they will destroy and we will rebuild–but we will come to understand each other."