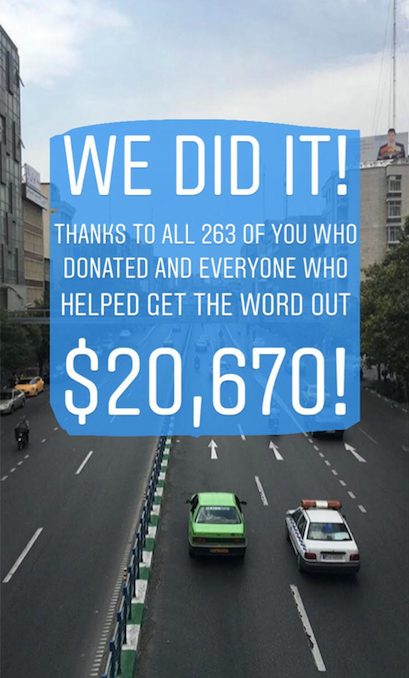 Hello, salaam, hi, and a happy NOWRUZ, NEVRUZ, NAVRUZ, NAW RUZ, NOROOZ from all of us here at Ajam Media Collective!
Nowruz is an ancient festival marking the arrival of Spring, celebrated across the Middle East, Central Asia, South Asia, and the Balkans. Dating back at least 3,000 years, Nowruz is a celebration of rebirth and renewal, of the end of winter and the flowering of the Earth that warm weather brings.
In the Iranian calendar, this Nowruz marks the beginning of the year 1398. 1397 treated us well here at Ajam, and we hope 1398 brings you and your loved ones many blessings and much happiness!
1398 is a big year for us, because we are launching all sorts of new projects and paths for Ajam to grow. Thanks and a huge MAMNOON to all of you who supported us during our kickstarter fundraising campaign earlier this year – we really appreciate that you believe in Ajam and what we're about.
If you missed out on the campaign but still want to donate, there's a link to our paypal on the site. The biggest change in 1397 is that we now pay our writers! We are committed to compensating the people who do the labor that makes Ajam possible. If you're interested in writing for Ajam, get in touch and fill out our new submissions form here.
In an effort to move Ajam offline and into the physical world, last summer we collaborated with Baku's ARTIM Artspace to curate an exhibition about our Mehelle project exploring the demolition of the Sovetski neighborhood in Azerbaijan's capital. For more information about the exhibition, check out this review written by Lucy Wallwork here.
There are other changes as well! We are moving towards embracing our title as a media collective, and some of you have started tuning in to our regular program of the Ajam Podcast with our editors, Rustin Zarkar and Kamyar Jarahzadeh. We've discussed topics as diverse as urbanism in Georgia, Jewish communities in Iran, Tajik labor migration to Russia, Iranian students group in the 1970s US, and much more! The podcast airs every other week, and features some of our favorite academics, artists and more. Check out our latest podcast, "Between Iran & Zion," here.
We're especially excited to announce "Ajam Films." Soon to be launched, we're looking for documentary, narrative or experimental films that are a maximum of 30 minutes long. Starting this April, each month we'll work with one filmmaker, sharing a film by them along with an accompanying interview.  More details to come soon, but for now, dust off your camcorders and get filming.
1398 is looking up! We're looking forward to bringing you more good, accessible, and interesting content, and we're always grateful for your support. If you'd like to share some eidi and donate to Ajam to keep these amazing projects going, please do so here!
Before we launch into the new year, here's a look back at our most popular articles of 1397.