Queering Iranian Cinema
The concept of a queer Iranian cinema may sound contradictory or impossible, but that is exactly how one would describe Facing Mirrors (2011), the first movie to feature a female-to-male transgender main character that has been written, produced, and screened in Iran. Directed by Negar Azarbayjani and produced by Fereshteh Taerpour (two cisgender female filmmakers), Facing Mirrors features the story of the unlikely friendship between the upper-class Adineh ("Eddy"), a pre-op transman in Tehran struggling to escape from the grips of his transphobic father, and Rana, a modest, devout, working class woman who ferries passengers in order to pay her imprisoned husband's debts and secure his release.
This film has won numerous awards and nominations in over 64 different LGBTQ and international film festivals around the world – most notably the Special Jury's Crystal Simorgh Award at Iran's 29th Fajr International Film Festival and the Outstanding First Feature Award at San Francisco's 36th Frameline Film Festival. It has also received rave reviews from Iranian film critics and audiences around the country.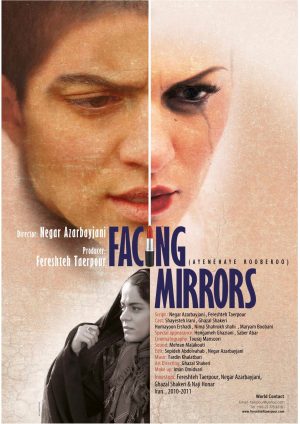 Although transpeople seeking transition are legally accepted in Iran, they are not often visible in popular culture. The legal acceptance began with a fatwa issued by Ayatollah Khomeini in 1978, which laid the groundwork for the current legal regime dealing with trans issues. Today, not only does the government recognize transpeople, but it also financially supports those who cannot fully afford hormones and sex reassignment surgeries through charity grants, and more recently, by mandating that insurance companies cover the full cost of the operation.
The surprising aspect of this story, therefore, is not the positive response from both critics and ordinary moviegoers in Iran, but rather a lack of coverage by mainstream Western press of such an internationally successful movie. It would seem that a movie about transpeople in Iran would be an instant headline-grabber, especially when one considers the plethora of news reports, op-eds, and airtime devoted to criticizing the Islamic Republic of Iran's horrid record of human rights violations, particularly when it comes to the rights of women, minorities, and lgbtq folks. Indeed, another recent movie, Circumstance (2011), written and directed by Iranian-American female filmmaker, Maryam Keshvarz, which chronicles the love story of two female Iranian teenagers – Atefeh and Shireen – trapped between a repressive government and an unaccepting society, was immediately picked up by mainstream media. It generated multiple articles, reviews, and critiques, including an interview on AfterEllen.com, a popular US-based lesbian pop culture website.
The lack of mainstream coverage of Facing Mirrors in the US stands in stark contrast to the widespread media attention given to Circumstance, which is a direct result of the Orientalizing effect of the Western gaze on Middle Eastern subjects. Historically, some European men who came into contact with the Middle East both fantasized about and denounced the closed-door sexual lives of Middle Eastern men and women, especially homosocial spaces and same-sex relations. European women, on the other hand, sought to save their Oriental "sisters" whom they viewed as oppressed by their religion and Oriental men, as elucidated by Harvard Professor Leila Ahmed in her book, Women and Gender in Islam. These attitudes toward Middle Easterners continue to this day, an example of which can be found in the movie Circumstance whose relatively positive public reception in the West arises from this conformity to Western Orientalist imaginaries, whereas the movie Facing Mirrors disrupts and challenges the hegemonic and Orientalizing narrative of Iran's sexual and gender minorities, and is thus ignored and excluded from the cultural and artistic public domain.
Oriental Objects of Circumstance
According to the Iranian-born US-raised first-time director of Circumstance, Keshavarz, the inspiration for making the film was a lack of movies in Iran "or the Muslim world" that dealt with the issue of women's sexuality. This claim could not be farther from the truth, as there are a plethora of movies in the Middle East and North Africa, let alone South and East Asia that deal specifically with issues concerning women, sexuality, relationships, and domestic problems, such as Caramel (2007), The Girl in the Sneakers (2001), The Circle (2000), The Last Supper (2002) and many more.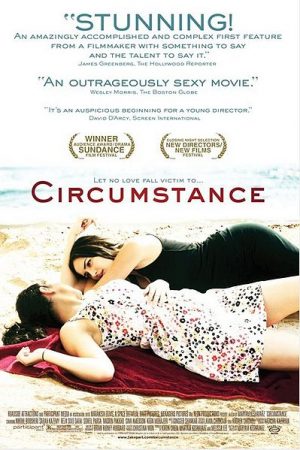 Shot in Lebanon, Circumstance often appears inauthentic to an Iranian audience about whom it purports to speak. From the actors' thick American accents when speaking Persian (for most of them grew up in the suburbs of America) to the natural and urban scenes of Iran to the characters' costumes and house decorations, there are many instances of disconnect between what the movie portrays and the reality of Iranian life. For example, during a scene when the two girls' car is stopped by a police search patrol, the girls scream "Comité!" – a term literally meaning "the Committee," referring to the so-called morality police in the 1980s and early 1990s. However, comités have long ceased to exist and the so-called "morality police" is now referred to as gasht-e ershad or the "Guidance Patrol."
In addition to the many technical mistakes, the movie has also been criticized by Iranian lesbians and feminists for being extremely shallow and resembling a stereotypical exotic Orientalist fantasy rather than showing the reality of lesbian life in Iran. According to Mahboubeh Abbasgholizadeh, an Iranian feminist activist, the film incurred the wrath of a number of Iranian feminists and lesbians, because it failed to show the realities of marginalized lesbian women in Iran. It is imperative to note that Circumstance was not meant to speak to audiences in Iran, but its main interlocutor was a Western audience in the United States specifically. Indeed, when Abbasgholizadeh claims, "squeezing sex and the government's suppressive violence and similar subjects is intended to make the film more exciting," she is touching upon the long history of using Middle Eastern (queer) bodies and sexualities to satisfy Orientalist fantasies of the Euro-American spectator.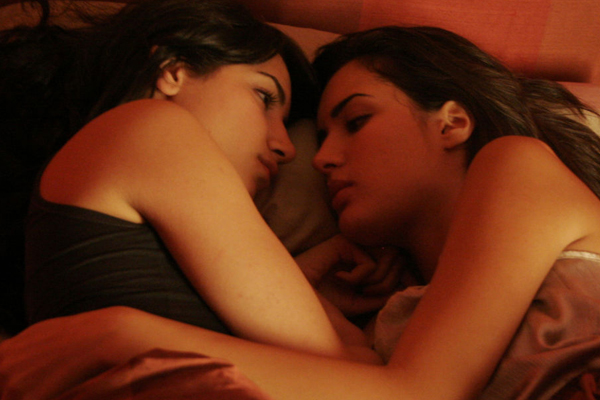 Historically, many Europeans who came into contact with the Middle East have often fantasized about the "behind the veil" life in the Oriental "harem," which has come to symbolize the hidden sexual lives of Middle Eastern women. "In Circumstance, the audience is witness to that very same gaze and objectification of women's bodies," writes Leila Mouri, an Iranian women's rights activist, journalist and Ph.D. Candidate at Columbia University. It is this un-veiling of the hidden lives of queer Middle Eastern women in order to serve men's pleasures and fantasies that reduces them to mere objects of gaze and consumption for a Euro-American audience.
The greatest weakness of Circumstance is the lack of subjectivity of the two protagonists, Atefeh and Shireen. From the portrayal of a slow-motion erotic belly-dancing scene to the alcohol, drug and sex-filled underground Tehrani parties, Atefeh and Shireen are shown as mere (queer) sexual objects as opposed to subjects of their own destiny. Indeed, the movie's byline in the official website proudly proclaims in bold letters: "Freedom is a Human Right." However, in the movie, the Iranian (queer) woman's struggle for social and political freedom is reduced to drinking, attending parties, playing loud music and cursing the "Mullahs." Even though this desire for social freedoms is important, its shallow portrayal in the movie simplifies and overshadows the larger social, political, and economic struggles of Iranians, and renders their political agency and complex analyses of their social and political plight invisible. For the Western audience, however, the Orientals never possessed any agency to begin with, and thus, can only exist as mere victims of circumstance.
Reflections in the Mirror
The lack of subjectivity in Circumstance is contrasted by the strong and complex characters of Facing Mirrors. When the protagonist Eddy's transphobic father discovers his intention to acquire a passport and leave the country, he tries to lock Eddy up; however, Eddy escapes with some money and a backpack on his shoulder, which puts him on the path of meeting Rana. In the movie, instead of being treated to the stereotypical images of the oppressed Oriental woman, one is confronted with scenes of defiance, resolve, compassion, and complexity. For example, when the "Guidance Patrol" stops Eddy and one of his female friends while driving, instead of screaming, Eddy defies the police officer and tries to (unsuccessfully) pass his brother's driver's license as his own. This scene offers a glimpse into the complexity that often marks the space for defiance and negotiation between Iranian youth and the state security apparatus. Eddy's "tough-guy" attitude is, however, tempered by his softness and his pain and loneliness are revealed in a potent scene of crying in the bathroom.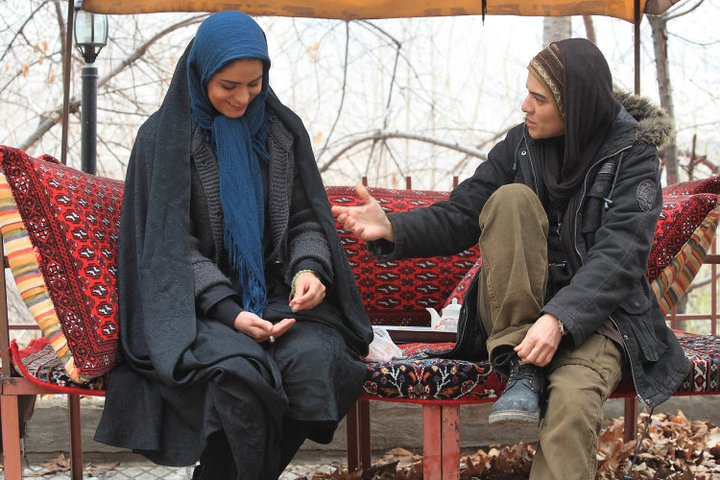 Rana, who is devout and comes from modest means, has her own moments of defiance and struggle. She reveals that, as a young girl, one of her dreams was to learn to drive and be able to stand on her own feet. However, instead of being reduced to a helpless victim when her husband is sent to prison, she defies her overbearing mother-in-law (who doesn't believe in women driving), and sets out to realize her dream by driving passengers in order to make enough money to care for her son and pay her husband's debt. Instead of objectifying women and queer bodies to serve Orientalist fantasies, Facing Mirrors shows the resilient and resourceful nature of Iranian women and gender minorities whose struggle for freedom and survival is made possible by exercising their agency. These scenes offer a more complex depiction of what liberation means for the marginalized of society, and it flies in the face of the single narrative of helpless victims trapped under a repressive regime presented by mainstream Western media.
Disrupting Orientalism
The fact that Circumstance has captured the imagination of straight and queer Western mainstream audiences whereas Facing Mirrors has received little media attention in the West reveals volumes about the cultural power of the Orientalist imaginary. Additionally, the lack of mainstream coverage of Facing Mirrors in the United States is juxtaposed with the overabundance of media attention toward the film in Iran where the film has been the subject of debate and appraisal since its release.
Even though Facing Mirrors did not receive its official permit to be screened in Iranian theaters until October 24th, 2012 – almost a year-and-a-half after release in international film festivals – film critics, journalists, bloggers, and state-sponsored news agencies in Iran began commenting and reporting on its laudable success worldwide almost immediately. It has also been the subject of much debate in Iran's online blogs and news sites where many young Iranians discuss social, cultural and political issues of the day. This film was even screened at Mofid University in Qom, an extremely religious Iranian city known for its seminaries and education of clerics. After a panel discussion with the producers and actors of the film, the Islamic seminary students and professors praised the movie for portraying the realities of transpeople's lives in Iran. This is a testament to the fact that despite restrictions and problems of censorship in Iran, the public sphere is still open to debate and discussion of a variety of topics, including those pertaining to sex and gender.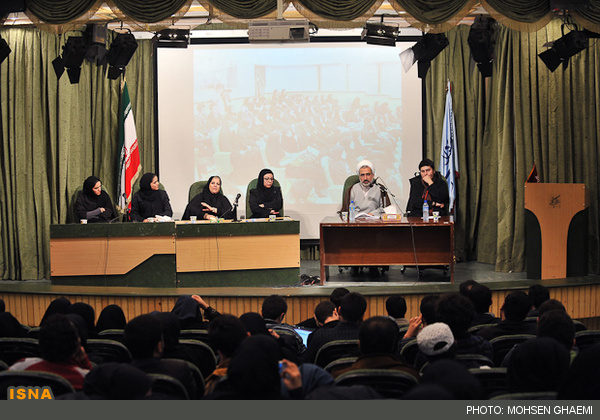 The greatest success of the movie, however, is in the fact that it has forever entered Iran's social, cultural, and political public space where it has inserted a thought-provoking and relatable narrative of queerness in the public imaginary, and addressing a social taboo in consequential ways that Circumstance could never have done. With its humanistic and yet complex storytelling, Facing Mirrors is able to not only touch the hearts of its audience, but it also manages to explore the viewers' own preconceived notions about transgender people in a manner that is not moralistic or heavy-handed, while truthfully portraying the reality of being trans in the context of Iran's society and culture. Unlike Circumstance, Facing Mirrors has the power to confront, challenge and continue the process of uprooting prejudice in Iranian culture, and potentially open up the public space for discussing other taboo socio-cultural topics in the future. Facing Mirrors is, in fact, queering the exotic image of the Oriental subject for a Western audience, as it humanizes Iranians and contextualizes their struggles.
Unfortunately, the mainstream Western culture considers such complexity as antithetical to its Orientalist narrative of oppressed Muslim women and queers in need of saving.  Therefore, a movie such as Facing Mirrors finds itself as an oddity in the Western cultural and public space where such nuances are rendered invisible or, at best, ignored. Indeed, Facing Mirrors not only sheds light on Iranian social issues, but it also holds up a mirror of reflection that exposes and disrupts Western Orientalist imaginaries, and paves the path for a new and complex understanding of the Middle East.