This article has been adapted from Kimia Maleki's final project for her bachelor's degree at the University of Tehran's School of Art. While getting her degree in Carpet Design in Tehran, Kimia started the first student-run art magazine, Gahnameh Honar. She is currently continuing her education at the School of the Art Institute of Chicago in the field of Arts Administration and Policy.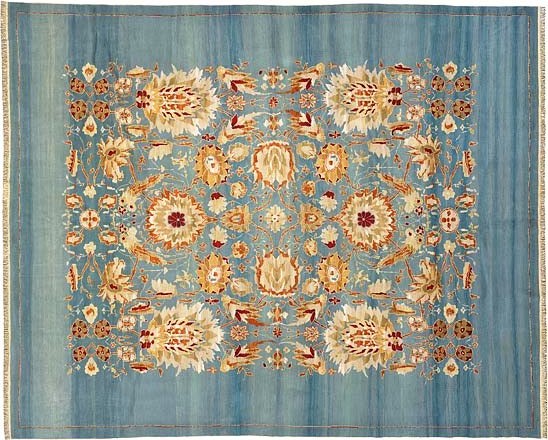 When I was a student of Carpet Design in Tehran Art University, I visited one of the many Iranian carpet firms in the German port of Hamburg as part of my research. In a nest of Bakhtiar, Naein, Qom, Qashqai and many other styles of carpets, a strange-looking model on the ground suddenly caught my eye: a carpet with spray patterns, big motifs and light colors. I asked the warehouse owner for the name of the carpet and he informed me that it was called "Ziegler" and that it was very popular in Europe and North America these days. The only thing I knew about Ziegler at the time was that it was the name of a multinational firm active in Iran during the Qajar period. I became curious about the origins of this style of Iranian carpet and the reasons behind its popularity in Europe after so many years. In the 19th century, the carpet industry in Iran was mostly driven by European firms, one of which was Ziegler. These companies played an important role in integrating Iran's economy into the slowly globalizing capitalist economies taking shape at the turn of the 20th century.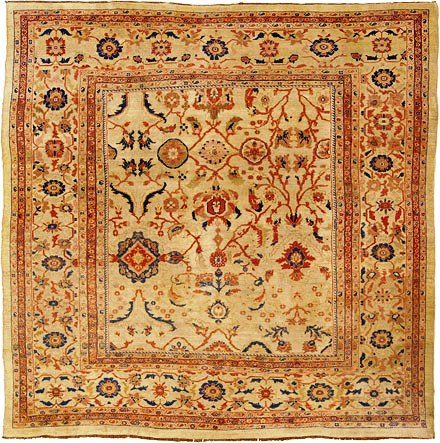 The majority of rugs exported to the Europe and North America before 1880s were old items that had originally been woven in Iranian domestic settings, catering to Iranian needs and preferences. Persian families enjoyed carpets and kilims at home for a time and then, as the rugs began to wear, they cashed in by selling them to Western markets. By 1880, the supply of old rugs in Iran had been depleted and exports to the West had dwindled.
According to some historical accounts, contrary to the Safavid period (1501-1722), Iranian art and industry suffered a significant decline during the Qajar era (1785-1925). But there is evidence in some sources that from the 1870s forward, carpet weaving actually prospered in Iran. Indeed, the year 1875 was considered "the year of carpet weaving revival in Iran," by Cecil Edwards, a scholar of Iranian carpets. The decline in silk exports in 1865 (due to an outbreak of a disease among silkworms) may have helped the carpet export industry thrive, according to historians such as Annette Ittig. It was only two years later that Ziegler began exporting carpets, slowly overtaking the company's other exports such as cotton, opium and silk.
In addition to its branch in Sultan-Abad, the company had offices in Tehran, Tabriz, Isfahan, Shiraz, and Bushehr. Ziegler's export of Iranian carpets to Western markets were quite remarkable considering the decline of Iranian art in the Qajar era. As Rudner notes: "Among the earliest foreign firms to have established a buying office in Persia, in Sultanabad in 1880, Ziegler & Company eventually controlled some 2,500 looms. In order to better maintain quality control Ziegler developed a contractual system with weavers which included the supply of yarns that had been prepared in the firm's own dye house at Kala." For the first time, the merchants of Tabriz (a historical capital in the northwest of Iran) decided to produce new carpets especially for export to European countries. By 1875, Western companies had established offices in Sultan-Abad (now known as Arak), a small town in central Iran with a tradition of rug-weaving. A few years later in 1878, a Manchester-based multinational company, Ph. Ziegler & Company joined them in weaving rugs for export to London and New York.
In other words, Ziegler had been present since the very birth of the export industry in Iran. The company was instrumental in shaping how rugs would be produced in Iran and what rugs would be woven in Sultan-Abad for the next fifty years. It contributed heavily to the development of Persian carpets as an art form, in addition to ameliorating living conditions for the locals. The study of the rise and decline of this company can demonstrate how the complex workings of globalization and European imperialism in Iran affected the conception, production, and circulation of the Persian carpet locally and internationally.
Ziegler Company distinguished itself from other producers in Sultan-Abad in several ways. To begin with, it designed its rugs with European tastes in mind. The company even accepted designs from Western retailers who were presumably tuned to the demands of their end-user customers. Secondly, Ziegler maintained its own dyeing facility in Sultan-Abad. Ziegler developed the system of providing weavers with already-dyed yarn, thereby controlling the quality of the dyes and dyeing methods.
"Ziegler" is a German word meaning brick-maker. But in the carpet industry, the name Ziegler has an altogether different meaning, representing a particular design of rugs. Handmade and machine-made carpets in this style are very popular in the market. Nowadays, "Ziegler" is used to refer to a style of weaving in the carpet industry, and not the name of the place where the carpet has been woven or the name of the related carpet company. Undoubtedly when Ziegler Company was operating in Sultan-Abad, the Ziegler carpets were woven and offered on the market under supervision of that company. Nowadays, the carpets bearing this name endeavor to revive the quality, coloration, and design reminiscent of the name of Ziegler. In order for a carpet to qualify as a "Ziegler carpet," it has to possess certain specific attributes: size, design, color, and large motifs.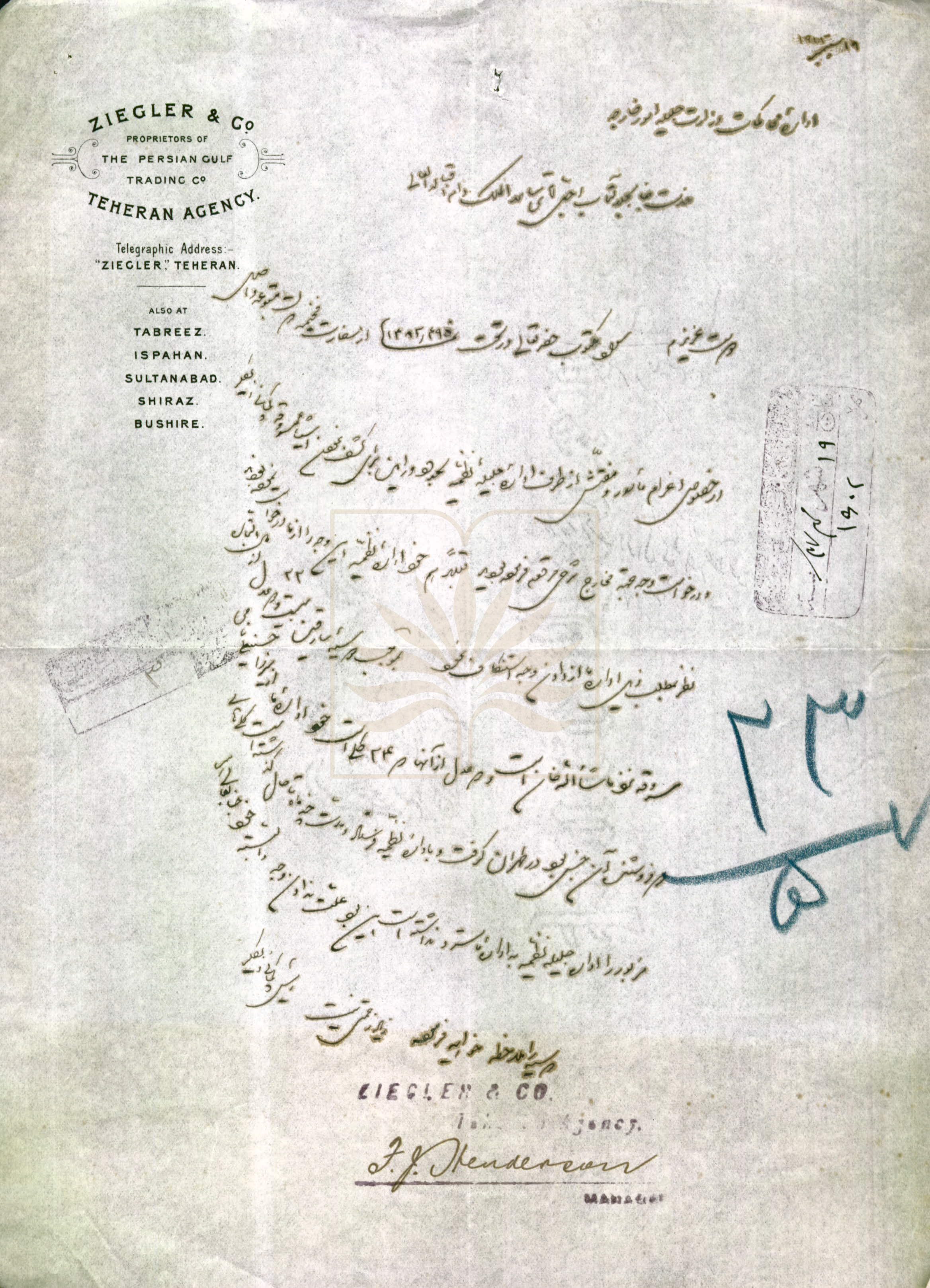 Carpet manufacturing during the Qajar period was dominated by the establishment of multinational corporations who invested heavily in the production of Persian carpets. The management method used by these companies inside developing countries was based on exploitation. These companies encouraged the carpet manufactures to weave inexpensive carpets of low quality and cheap coloration due to the use of chemically-unstable ink colors, which were suitable for European and American markets. These corporations encouraged economic profitability over quality. These companies included:
1. The English-Swiss corporation named Ziegler Co. which was initially established in Tabriz (1878) and then in Arak (Sultan-Abad).
2. The Italian-English Co. known as Near Co. Casteli Brothers.
3. Eastern Rug Trading Co. New York which was established by international investment of England, Italy, Russia and Germany.
4. Oriental carpet manufacturing of London. (O.C.M) which was an English- Greek company in Kerman, Iran.
5. The representatives of other companies such as Tavshanchian, Atie, and some other companies which traded carpets.
Ziegler was the first foreign export company of Persian carpets and the most well-known, active in both the manufacture and trading used or new carpets. A pair of valuable and famous Sheikh Safi carpet from Ardabil was purchased by this company and sent abroad.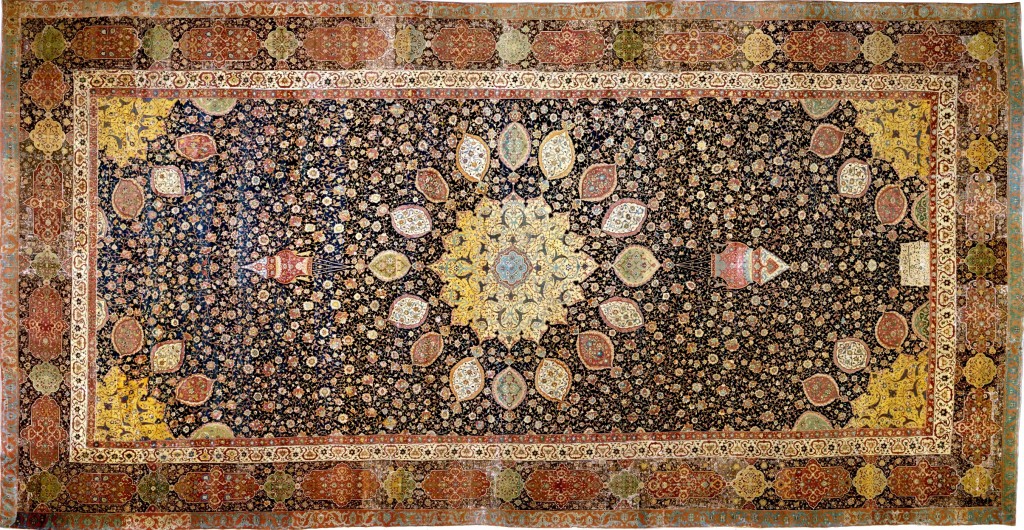 As the capital city of Iranian carpet industry, Arak was one of the rare planned metropolises in Iran. The French engineer Teraizer and General Gardanne were sent to Iran by Napoleon and designed Arak as a copy of Nice in France. During the 19th century, Arak was famous for manufacturing durable, inexpensive and high quality carpets. Arak is among the four major centers of the industry of carpet manufacturing in Iran.
While in Arak, I discovered that the current Haj Vakil Castle used to be the headquarters of Ziegler Co. After the liquidation of Ziegler, one of the wealthy men of Arak, named Haj Mohammad Hossein Meisami Vakili or Haj Vakili, purchased a part of this building. In this castle, there are sections for trade, manufacturing workshops, coloring and accommodation of the staff members, all documented. Interestingly, the Ziegler Co. headquarters that was built to British standards but based on Iranian architecture had not changed much in over 120 years.
This slideshow requires JavaScript.
Surprisingly, the Arak bazaar I visited was filled with Sarouk and Lilihan carpets made to American and European tastes respectively. This was due to the decline of Ziegler Co. by the mid-twentieth century. Ziegler faced huge financial problems during the First World War when its trade activities were disrupted. Not only did Russian and German troops pillage Ziegler's assets and holdings, but the delay in carpet transportation by the Persian Gulf shipping agencies to Britain caused Ziegler to lose a considerable amount of money. Furthermore, Ziegler's activities encountered delays due to the lack of security in the road systems in Iran. Robbery and pillage intensified when Russian, German and Turkish troops invaded Iran during World War I. Ziegler wrote letters of complaint to the British Embassy in Iran to request indemnity of the robbery and damage to its property. Apparently, the complaints were left unanswered and ultimately the company was liquidated in 1934.
Despite its liquidation, the particular coloring, design and motifs of Ziegler carpets lived on. The carpets continued to be produced by other companies according to European tastes, becoming highly valued in Western markets.  To this day, Ziegler's particular motifs are used in Western interior designs. The high quality of its carpets motivated more companies to invest in Persian carpets to cover the floors of European and Americans houses. Ziegler was the first company to produce handmade Persian carpets while catering to European tastes and needs. It was this appeal to European markets that greatly influenced the development of Persian carpet art. It is important to realize that what is considered as "Iranian" patterns in carpets was often affected by European imperialism and process of globalization.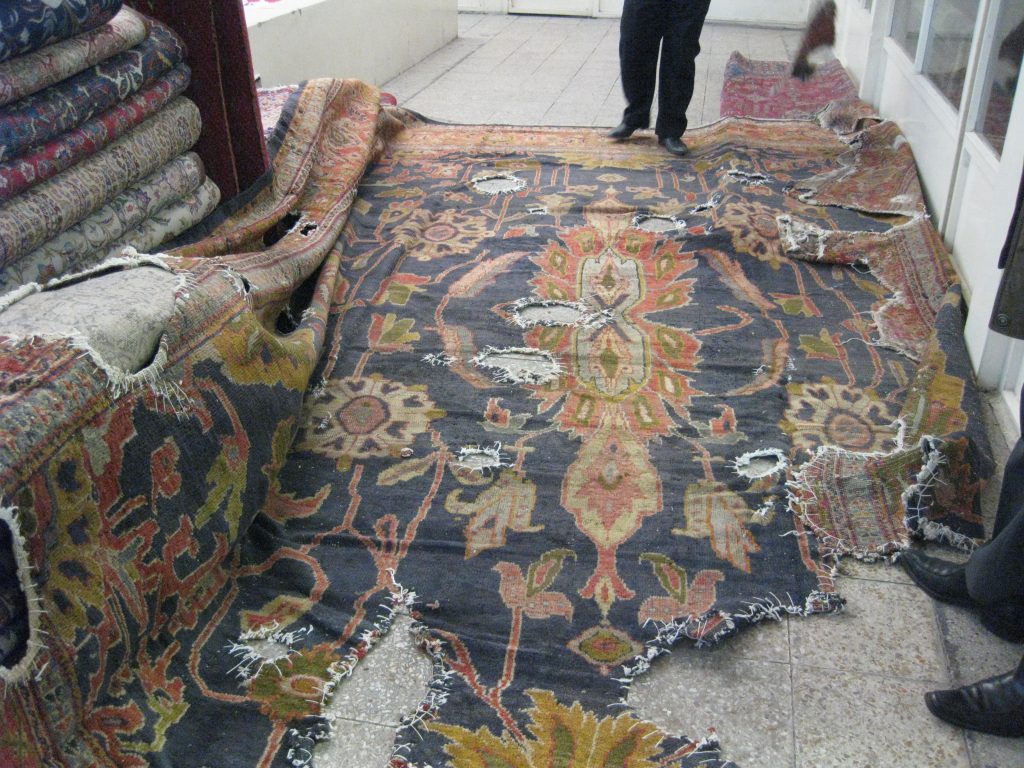 Bibliography:
Dahegan, Ibrahim. Arak History, Tehran, Zarrin, (2007).
Edwards, A.Ceci. The Persian Carpet, London, Duckworth, (1975):
Heshmati Razavi, Fazlolah. The Management of Art & Industry of Persian Carpet, Tehran, Samt, (2002).
Heshmati Razavi, Fazlolah. The Persian Carpet Evolution & Development, Tehran Samt, (2008).
Ittig, Annette. "Ziegler's Sultanabad Carpet Enterprise." Iranian Studies 25, No. ½ (1992): 103-135.
Rudner, Martin, "The Modernization of Iran and the Development of the Persian Carpet Industry: The Neo-Classical Era in the Persian Carpet Industry", Iranian Studies, 44:1, (2011): 49-76