To download the episode, subscribe to us in the iTunes store,  Spotify Podcasts, and Google Play.
In this episode, Rustin interviews Dr. Aria Fani, Professor of Persian and Iranian Studies at the University of Washington, about his upcoming book project, Making Persian Literature: Iran and Afghanistan in the Age of Romantic Nationalism.
Dr. Fani's research explores how literature was utilized in the nation-building process in both Iran and Afghanistan during the turn of the twentieth century. His work pushes back against the narrative that the Persian language was in decline as a lingua franca across large swaths of Central and South Asia in the nineteenth century. While Persian did in fact have to compete with Russian, English, and other languages, it remained a prominent language of transregional cultural production, and intellectuals worked to reform the language to fit within new nationalist concepts of literary discourse.
In Iran and Afghanistan, "nation-state nationalism" did not automatically lead to the collapse of all ties across borders, but rather opened up a new site of exchange. He instead shows how Iranian and Afghan intelligentsia traveled back and forth and were in conversation about what came to be the canons for their respective national literatures. For this reason, Fani suggests that Iranians and Afghans were in fact co-conspirators of a shared literary project.
Guest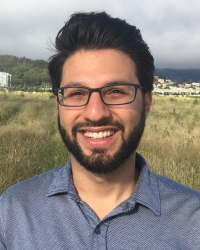 Aria Fani
Aria Fani is an assistant professor of Persian and Iranian Studies. His research focuses on modern Persian literature and traces transnational literary connections, particularly between Iran and Afghanistan. He also engages in social advocacy for non-citizen Americans, particularly Mexican and Central American asylum seekers.
Host
Rustin Zarkar
Ajam Editor / Middle East & Islamic Studies Librarian at UNC Chapel Hill.
Credits
Episode No. 28
Release Date: 22 November 2020
Recording Location: New Orleans, Louisiana.
Produced by Rustin Zarkar and Ali Karjoo-Ravary
Audio editing: Lindsey Stephenson and Nicholas Gunty
Music: Yavaran (Intro: "404 day in heaven" Outro: "Har Chi")
Cover Image: "Kullīyāt-i Riyāz̤ī," Mashhad, 1906, Images of Iranian and Afghan rulers. Library of Congress African & Middle Eastern Division.