October in Chicago was a good time for fans of Iranian cinema. The Siskel Film Center hosted the 22nd Annual Festival of Films from Iran, a month-long event dedicated to showing the latest output from both the who's-who (Dariush Mehrjui) and the up-and-comers (Maryam Keshavarz) in the world of Iranian filmmaking. This year's roster boasted an eclectic mix of films, with the unifying goal of "[highlighting] the balance between tradition and modernity through diverse stories that may be grounded in the rituals of contemporary culture (ONE.TWO.ONE), or tied to the mysticism and customs of a past era (BELOVED SKY)."
With eight films slated to be screened over the course of a month, there was something for everyone to enjoy. Unfortunately, politics entered into the equation when the Iranian government banned several of the films from leaving the country. Bahram Tavakoli's HERE WITHOUT ME (INJA BEDOUN-E MAN), Niki Karimi's FINAL WHISTLE (SOUT-E PAYAN), and Abdolreza Kahani's ABSOLUTELY TAME IS A HORSE (ASB HEYVAN-E NAJIBIST) were all cancelled at the last minute, replaced by multiple screenings of Maryam Keshavarz's much buzzed-about CIRCUMSTANCE (SHARAYET). The cancellation of these films is indicative of the personal risks and creative challenges that Iranian filmmakers incur for the sake of their art and brings to mind the drama surrounding the house arrest of filmmaker Jafar Panahi and the transport (via cake) of his latest work, THIS IS NOT A FILM (IN FILM NIST), to this year's Cannes Film Festival. Apparently the Iranian government is carefully inspecting all baked goods that leave the country, challenging filmmakers and distributors to conjure up more creative and elaborate means to bring their works to a global audience.
I managed to catch the penultimate event in the festival's lineup this year, a double-feature of BBC Persian documentaries: Kasra Naji's BAHA'IS IN IRAN and Kurdish-Iranian filmmaker Jiyar Gol's A TALE OF TWO SOLDIERS (DASTAN-E DO SARBAZ). As an added bonus, both filmmakers were present for the screening, introducing themselves and their films and then generously (and patiently) taking audience questions at the end.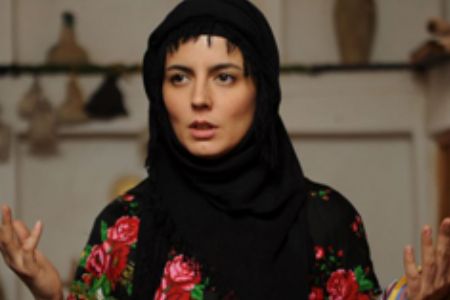 Naji's BAHA'IS, shot mostly on location in Haifa, Israel, chronicles the history of Baha'i persecution in post-Revolution Iran. In his introductory remarks, Naji stated that his goal in making this film was "to sensitize the Iranian public to the plight of their fellow countrymen" and to disabuse people of the notion that Baha'is are a community with divided loyalties, working as spies for Israel or Great Britain. The short film featured interviews with prominent Baha'is and made an impressive use of archival footage and photographs.
The main feature, Jiyar Gol's A TALE OF TWO SOLDIERS tells the story of two veterans fighting on opposite sides of the Iran-Iraq War, and the twist of fate that would reunite them almost three decades later. Both soliders were captured, taken across enemy lines, and kept as prisoners of war. Their first meeting, however, came when one soldier saved the life of the other, his enemy, after he was injured on the front lines. Several decades later, both men wound up living in Vancouver and seeking treatment for war-related psychological trauma at the Vancouver Association for Survivors of Torture, or VAST. A chance reunion in the VAST waiting room turns into a deep friendship, and one that allows these two men to begin to move past the horrors of war.
Both films speak to the tremendous human cost that comes with the violent suppression of religious freedom and the senselessness of war, respectively. That these films were made for, and broadcast to, audiences inside Iran perhaps reflects an internal desire to confront more difficult aspects of Iran's recent historical memory, in the hopes of beginning to heal these deep wounds. With the BBC and its foreign language services facing severe budget cuts this year, one can only hope that documentary filmmaking of this caliber will be spared the proverbial axe.
For more information:
Siskel Film Center, Chicago:
http://www.siskelfilmcenter.org/iran2011
Vancouver Association for Survivors of Torture:
http://www.vast-vancouver.ca/