To download the episode, subscribe to us in the iTunes store,  Spotify Podcasts, and Google Play.
In this episode, Rustin and Ali interview Alireza Doostdar, Assistant Professor of Islamic Studies and the Anthropology of Religion at the University of Chicago. He is the author of The Iranian Metaphysicals: Explorations in Science, Islam, and the Uncanny, published by Princeton University Press in 2018.
Dr. Doostdar explores the neglected aspects of religion and spirituality in Iran, specifically practices that are often categorized in the realm of superstition, magic, and the occult. The interview opens with a discussion of two different yet entangled traditions that engage with the immaterial world in contemporary Iran: the "strange" or "hidden" sciences ('ulum-e qaribeh or 'ulum-e khafiyeh) that were developed in Iran and in nearby regions, and the esoteric sciences imported from Europe in the nineteenth century. These two lineages include beliefs and practices such as sorcery, alchemy, astrology, spiritism, mesmerism, and theosophy. Dr. Doostdar explains that these traditions form the foundations of Iranian metaphysics and serve as a testament to the plurality and ambiguity of religious practice in the Islamic Republic. Towards the end of the episode, Dr. Doostdar discusses his own perceived run-in with the unseen world during his fieldwork.
Guest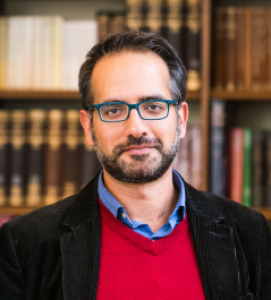 Alireza Doostdar
Dr. Doostdar is broadly interested in religious reason and its entanglements with science and the state. His primary focus is on Shi'i Islam, which he approaches as a dynamic tradition shaped in dialogue with other religious and secular formations.
Alireza (@docstobar) on Twitter
Hosts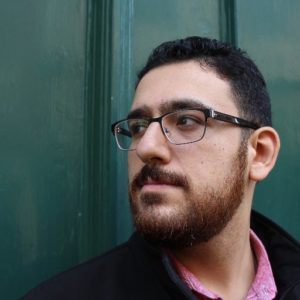 Ali Karjoo-Ravary
Ajam Editor. Assistant Professor of Religious Studies at Bucknell University.
Ali (@alikarjooravary) on Twitter
Rustin Zarkar
Ajam Editor / Middle East & Islamic Studies Librarian at UNC Chapel Hill.
Credits
Episode No. 20
Release Date: 2 August 2020
Recording Location: New Orleans, Louisiana.
Produced by Rustin Zarkar and Ali Karjoo-Ravary
Audio editing: Nicholas Gunty
Music: Yavaran (Intro: "404 day in heaven" Outro: "Har Chi")
Cover Image: Kamal ol-Mulk, Exorcist and Client. c. 1900. Collection of Dr. Layla S. Diba.