This is the second volume in a mixtape series presented by Ajam Media Collective's "digital resident," Yavaran. To hear the inaugural mix featuring contemporary Iranian music in a global context, click here.
The past decade has seen the release of Iranian, Turkish, and other psychedelic music compilations to much critical acclaim. Even modern producers and DJs seem to be returning to and embracing the psychedelic sound, especially as it was produced outside of the United States. Fans of the psychedelic genre can find similar sounds through a variety of compilations and original releases that have recently hit the market, which focus on not only Iran and Turkey, but even Pakistan and Cambodia.
Psychedelic rock's history is deeply embedded in that of rock and roll itself. The basic story of the rise of rock and roll is fairly well known at this point. African-American artists had been pioneering the sound based on their own traditions of blues, jazz, and rhythm and blues. Rock and roll witnessed a large surge in popularity when white artists began drawing on that similar style, and when rock and roll was exported to Britain, they in turn responded by producing artists like The Beatles, who along with other acts, set off a truly global explosion of the genre.
Embedded in this narrative, however, is the story of the subgenre of psychedelic rock. Influenced by counterculture movements in the 1950s, drug usage, and world music influences (specifically from Indian Classical Music), in the 1960s and 1970s artists began to develop a musical aesthetic that we now identify with psychedelic rock. Namely, this refers to music that features experimentation, "exotic" instruments, spacey instrumental breaks, and the use of heavy studio effects such as reverb.
Just as rock and roll was was moving back and forth between the United Kingdom and the United States, the sound had spread globally to places that were similarly attuned to the musical landscapes beyond their borders. As Iran was developing its own form of rock and roll from the early 1960s onwards, psychedelic rock was invariably a part of that conversation and a fitting framework for developing an Iranian sound. Iranians had access to records from all over the world, and just as Jimi Hendrix is said to be have mastered the guitar through playing along to his favorite records, Iranian artists acquired the psychedelic sound through similar methods.
I remember years ago, in a conversation with Iranian pop-musician Parviz Ghadarkhani, he mentioned that he was a huge fan of British Invasion band The Animals. Clearly, even though Iranian artists were geographically far from where psychedelic rock was being produced, their ears remained close to the sounds to what their Western contemporaries were listening to.
Yet I must admit that on many levels these psychedelic compilations often make me a bit uneasy. Undoubtedly these compilations do the commendable service of bringing new listeners to great music that often goes neglected in the American and European mainstream. But whenever "world music" fans rediscover and repackage a musical tradition, the representation that these records are the sound of Samuel Huntington's clash of civilizations, wherein the records are literally described as the sound of when "East meets West." The story in the case of Iranian psychedelic, however, is much more complicated.
If it had to be labelled in the first place, the Iranian psychedelic sound should be known as "when East meets West meets indigenous, meets further indigenous cultures." Artists not only drew on western psychedelic sounds and mixed them with Iranian sounds, but looked in all cardinal directions for influence. Just as the The Beatles famously travelled to India, artists like Mehrpouya utilized Indian tablas and sitars in their recordings, and even Afghan classical music found a welcoming audience in Iran in the 1970s when Naim Popal spent time living and performing in Iran. Similarly, there are Iranian psychedelic songs that draw on musical influences from Turkish, Assyrian, and Southern Iranian communities.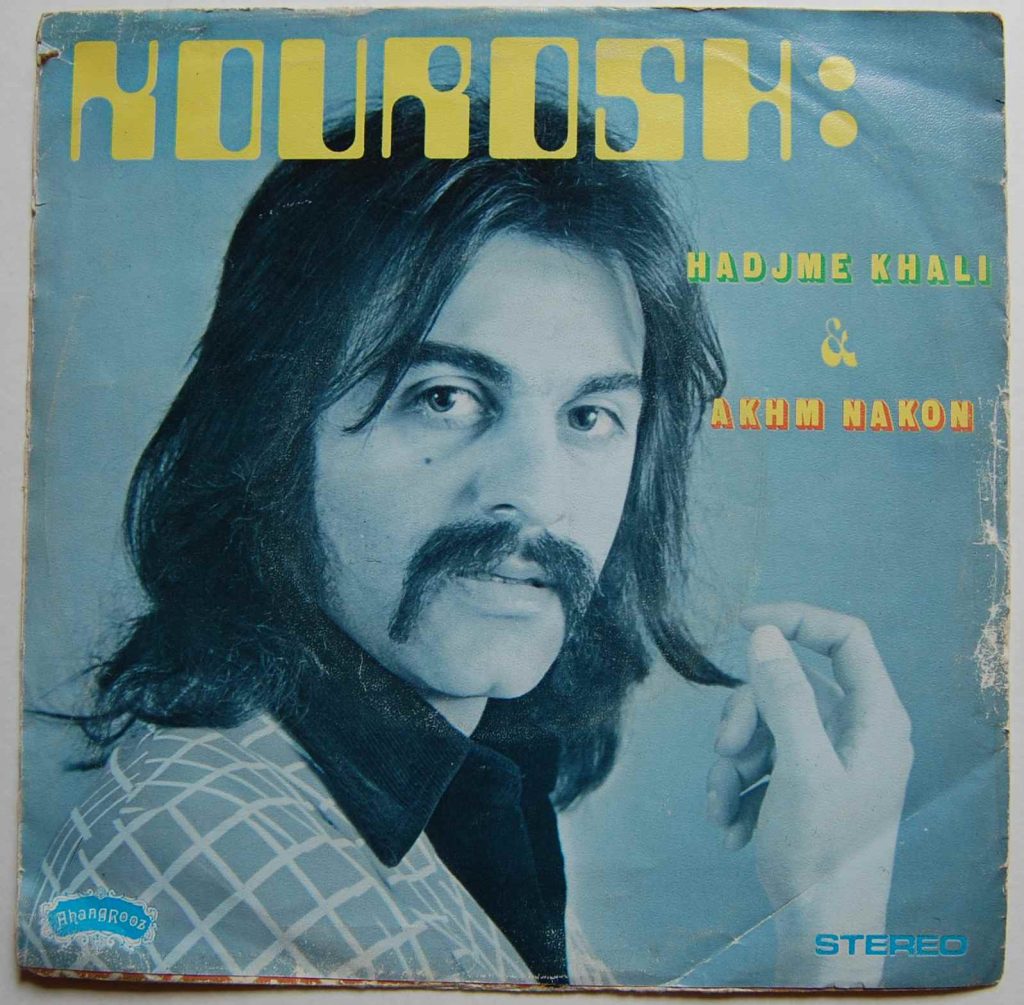 With this mix, I attempted to break away from looking at psychedelic rock as a Manichean battlefield between "eastern" and "western" sounds and instead, showcase how this genre allowed Iranian artists to engage in musical conversations with Western music, local sounds, and the sounds of neighboring countries. Thus, psychedelic music, which emerged from the interactions between young Western artists and Indian Classical Music, served as a platform for Iranian artists to inventively experiment as well.
The inclusion of Afghan, Turkish, and other non-Iranian psychedelic tracks are my attempt to give an auditory sense of how the people all over the world used psychedelic rock to partake in a global music phenomenon and simultaneously use it to express their own local identities. When heard side by side, it is always striking how similar yet different these records seem.
At the same time, I wanted to acknowledge the very direct American influence on this sound. As you will hear in the Deep Purple track that fades into Kouroush Yaghmaei's take on the Azeri Turkish song "Reyhan," Yaghmaei actually borrowed the entire keyboard solo from Deep Purple's "Burn" and injected it into a well-known classic. "Reyhan," like Ahmad Zahir's song "Laila Jaan," are not necessarily straightforward psychedelic rock songs, as they come across as honest renditions of classic music. However, as we hear in "Laili Jaan," the reverb-soaked and echoing tabla sound instantly gives us a sense that Zahir was tapping into the psychedelic sound's aesthetic and energy.
Finally, I made sure to include a song produced for Gonjasufi by DJ/Producer The Gaslamp Killer as a testament to how this music and its influence have survived until this day. The Gaslamp Killer's work is rife with samples and influence from Iranian and Turkish psychedelic music, and he has even collaborated with Amir Yaghmai to re-record a classic Turkish psychedelic rock song. Even as so much time has passed between the artists' heyday and the genre's recent resurgence, and the world they inhabited has changed so much, it is safe to say that echoes of an Iranian and global psychedelic sound still live on.
Track List:
1) Uzun Ince Bir Yoldayim – Ozdemir Erdogan ve Orkesterasi
2) Gofte Goya Sabz – Ramesh
3) Kobwebz – Gonjasufi (produced by The Gaslamp Killer)
4) Burn – Deep Purple
5) Reyhan – Koroush Yaghmaei 
6) Laili Laili – Ahmad Zahir
7) Glass of Wine – Dengue Fever
8) Hele Dan Dan – Betti