The history of Iranian jazz is difficult to write, despite the country's many collisions with the genre and its major acts. Iran has generated its share of jazz acts, yet also holds a special place in jazz history for the inspiration it has served to many of the genre's greats. This mix is an attempt to capture those two elements of Iran's jazz history: Iran as a site of inspiration for foreign jazz artists, as well as a cultural sphere from which jazz is produced.
The relationship between jazz and Iran began when the Pahlavi monarchy extended invitations to many Western musicians to visit in an attempt to bring so-called "high culture" to the country. As part of this opportunity, in the 1950s many jazz performers such as Duke Ellington came from the United States as a part of State Department sponsored diplomatic tours in which jazz musicians were sent to perform in various countries all the way from Turkey to Sri Lanka as a way to spread American influence. Ellington even famously dedicated a composition to the city of Isfahan, featured on this mix. Interestingly, many jazz artists stopped in oil-rich cities that were home to many expats, suggesting that there was likely very little of an audience for jazz beyond the Western-minded elite and expatriate community.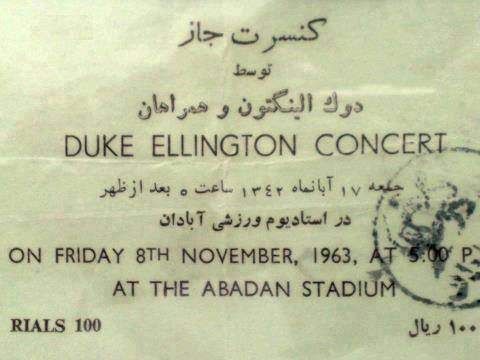 Around the same time, Iran began generating its own jazz acts, arguably beginning with Viguen in the 1950s and 1960s, who is occasionally referred to as the "Sultan of Iranian Jazz." Legend has it that Viguen was inspired to introduce the guitar to Iranian music when he heard Russian soldiers playing it in the short-lived Azerbaijan People's Government, a Soviet-occupied breakaway state in northwestern Iran from 1945-1946.
Although Viguen's work seems to hearken back to an early form of Iranian rock or popular music, many later artists also featured on this mix have gone on to embrace more experimental genres of jazz.
Unfortunately, domestic incarnations of jazz in Iran have yet to garner as large of a scene or international following as opposed to other regional variants on the genre. This is in contrast to, for example, the jazz scene of Iran's neighbor Azerbaijan. Azerbaijan and many other states in the Soviet sphere of influence have had decades of contact with jazz music and jazz instruction, whereas Iran's musical pedagogy in relation to jazz was much less widespread and thus unable to generate as large of a scene.
A notable exception is the work of Dr. Lloyd Miller, an American jazz musician and student who was introduced to Iranian classical music when his father relocated the family to Iran for work in the 1950s. Miller went on to spend years of life studying and performing Iranian classical music, even hosting a musical variety show in Iran under the pseudonym Kourosh Ali Khan. Miller's work is featured on this mix, as he is credited with giving birth to the genre of Iranian jazz fusion, or as he dubbed it at the time, "Oriental Jazz." In a fascinating interview with B'Taarof Magazine, Miller recounts inaugurating one of the first jazz trios to incorporate Iranian instruments and music with Western jazz. Paradoxically, in this same interview he also goes on to claim that "the main enemy of the radif [classical Persian music tradition] is modernization."
The story of Iranian jazz is still being written. The wide variety of acts on this mix span the spectrum of jazz genres give a sampling of jazz from Iran from the 1950s up until the present. Listening to the variety of recent artists on this mix suggests that the Iranian scene is still growing, and unlike the early days of jazz's appearance in Iran, the music has moved from an elite pastime to a more shared and organic cultural production.
Many thanks to Ehsan Khoshbakht for his blog (in English) on Jazz in Iran. You can read it here.
Tracklist:
1) 127 – Man Kiam
2) Duke Ellington – Isfahan
3) Dr. Lloyd Miller aka Kourosh Ali Khan – Gole Gandom
4) Rana Farhan – Drunk with Love
5) Sanam Abolazimzade – Sevgilim
6) Viguen – Mahtab