To download the episode, subscribe to us in the iTunes store,  Spotify Podcasts, and Google Play.
The Indian Ocean series explores topics related to the Islamo-Arabic and Persianate world from the perspective of the Indian Ocean littoral and the people who traversed its waters. These conversations aim to rethink narratives of history and culture, which have been traditionally boxed in by land-based territorial demarcations and regional studies frameworks. This series invites listeners to imagine the complex interconnectedness of life from East Africa to Southeast Asia and beyond.
In this episode, Lindsey is joined by Dr. Johan Mathew, Assistant Professor of History at Rutgers University, to talk about the circulation of goods and people in the 19th century Indian Ocean. He is the author of Margins of the Market: Trafficking and Capitalism across the Arabian Sea (University of California Press, 2016).
The seasonal monsoon winds drew the Indian Ocean's distant shores together over the centuries, and places as far afield as Burma and Bandar Abbas relied on one another for staples like rice and dates. Dr. Mathew explains how these flows transformed in the 19th century with new technologies and power dynamics. These connections were simultaneously strengthened through technological innovations like steamships while also being hindered by political changes that rerouted trade. Yet even with the disruptive influence of European imperialisms, Mathew suggests that even they were incapable of curtailing the circulation, passage, and interconnectivity that continues to defines the Indian Ocean today.
Guest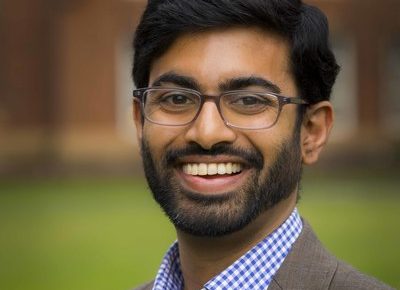 Johan Mathew
Johan Mathew is a cultural and social historian of the economy with a particular interest in illicit commerce and its role in modern capitalism. His first book, Margins of the Market: Trafficking and Capitalism across the Arabian Sea (University of California Press, 2016), traced hidden networks that trafficked slaves, guns and gold across the Arabian Sea in the late 19th and early 20th Centuries. He is currently working on a second project tentatively entitled, "Opiates of the Masses: A Biography of Humanity in the Time of Capital."
Lindsey Stephenson
Lindsey Stephenson (PhD, Near Eastern Studies, Princeton University) is the creator and host of Ajam's Indian Ocean Series. She is a social and legal historian of the Middle East and Indian Ocean. Her work focuses on sovereignty, mobility, and identity in the Persian Gulf.
Lindsey (@linds_e_yo) on Twitter
Lindsey Stephenson – Home
Credits
Episode No. 27
Release Date: 9 November 2020
Recording Location: Remote
Recording Date: 15 July 2020
Produced by Lindsey Stephenson, Rustin Zarkar, and Ali Karjoo-Ravary
Audio editing: Lindsey Stephenson and Nicholas Gunty
Music: Farqa bin Hussein
Cover Image: Bombay. Harbour with arriving mail. From the Photochrom Print Collection at the Library of Congress